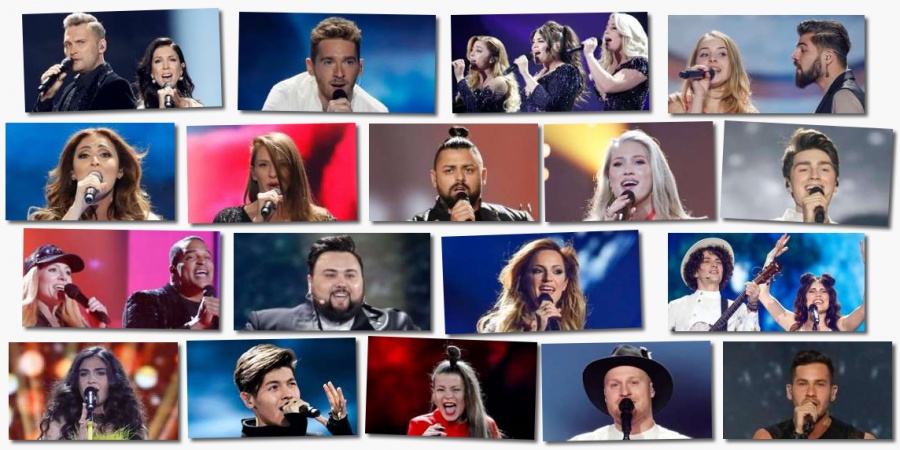 SEMI-FINAL 2
Tonight: Eurovision 2017 Semi-final 2
Tonight the second Semi-final will find the last 10 qualifiers for Saturday's Grand Final. 18 songs will be performed live from Kyiv. Have a look at all the details, songs and what to expect from tonight's Semi-final 2
We already know the first 16 songs qualified for the Grand Final on Saturday. Tonight the second Semi-final will find the last 10 qualifiers.
18 songs will compete but only 10 will qualify for Saturday's Grand Final. The show starts at 21:00 CEST, live from Kyiv International Exhibition Centre in Kyiv, Ukraine. Hosts are Oleksandr Skichko, Volodymyr Ostapchuk and Timur Miroshnychenko. The running order is decided by the producer (Ukrainian broadcaster UA:PBC) based on an allocation draw.
On Saturday the Grand Final kicks off with 26 songs.
Lineup Semi-final 2
After the 18 songs from the second Semi-final, a 1-minute preview of three of the six pre-qualified countries will be shown: France, Germany and Ukraine. These previews have been recorded yesterday at the Jury rehearsals.
Opening
The opening of Semi-final 2 starts with the same video as in Semi-final 1, showing some women dressed in typical Ukrainian costumes, enhancing this year's Eurovision slogan 'Celebrate Diversity'.
Then, we start seeing all the crowd inside the arena, as the three hosts appears walking to the center of the stage, welcoming all the Eurovision fans.
"Welcome to the Eurovision Song Contest 2017"
Seated on the stairs in front of the stage, two of the hosts, Oleksandr Skichko and Volodymyr Ostapchuk, shows their musical habilites. Oleksandr starts playing recorder and Volodymir gets an accordion. They start playing Eurovision hits in Ukrainian style and many dancers, musicians and singers join them, in an epic performance. "Euphoria" by Loreen, "Fairytale" by Alexander Rybak, "My Number One" by Helena Paparizou, and "Rise like a Phoenix" by Conchita are the songs performed.
Interval Act
The Semi-final 2's interval act features dozens of dancers wearing black onstage with red beltsstarring, in a big interpretive dance number for almost 6 minutes. They are "Apache Crew".
"Europe. Stop voting now"!
Voting
The voting procedure will be the same as last year. Each country will have two sets of 1,2,3,4,5,6,7,8,10 and 12 points to give. One set for each country's jury, and one set for each country's televoting.
The 10 songs with most points will qualify to the Grand Final
Each of the 18 countries participating in Semi-final 2 will vote
Each country has a national jury who gives one set of 1,2,3,4,5,6,7,8,10 and 12 points
Each country will have televoting which also results in a set of 1,2,3,4,5,6,7,8,10 and 12 points
The voting will not be revealed before the Grand Final has finished on Saturday
Only the 10 qualified songs will be revealed in random order
Televoters and national juries have equal weight in the voting
The national juries voted yesterday evening (Wednesday, 10 May) during the second dress-rehearsal