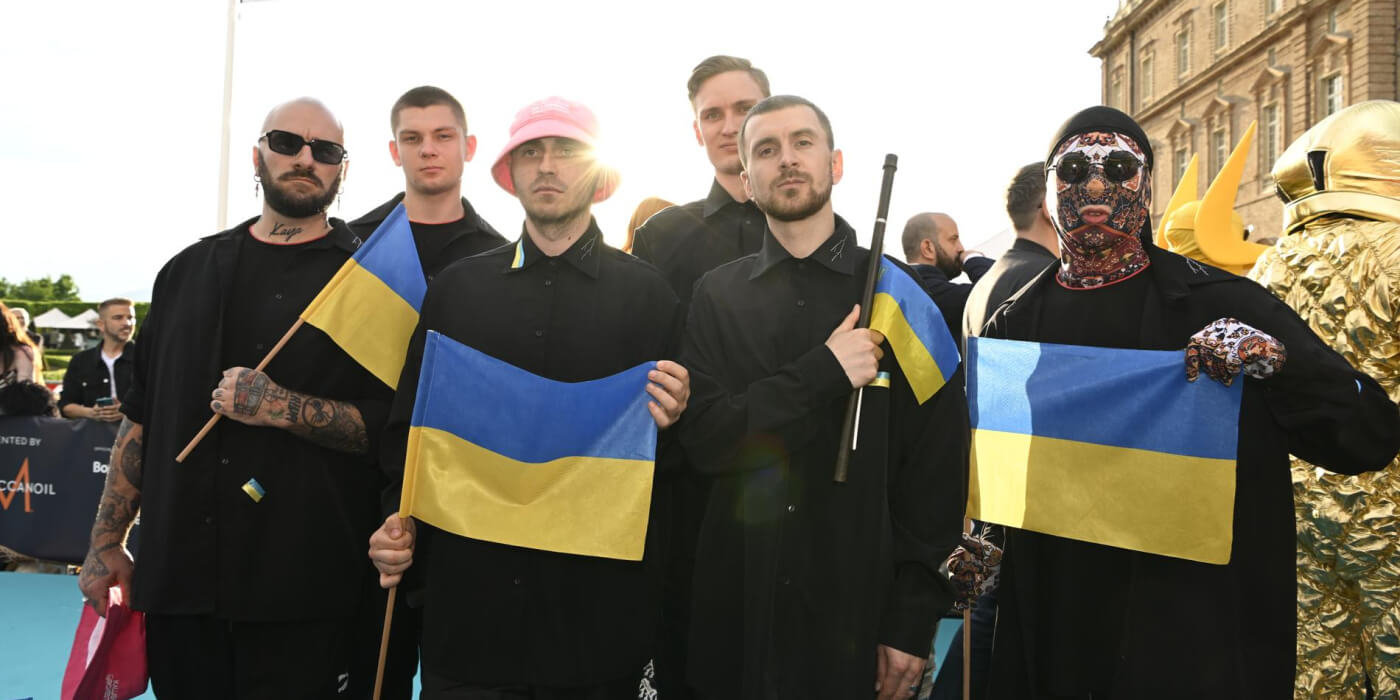 EUROVISION 2023
Will Eurovision 2023 be held in Ukraine?
After the victory of Ukraine's Kalush Orchestra, it's time to look one year ahead: Will Ukraine be able to host the Eurovision Song Contest 2023?

The freedom-loving part of Europe, as well as Australia, have just chosen Ukraine as the winner of this year's Eurovision Song Contest. The contest that builds bridges between countries to come together despite differences, and compete in song and music.
Unfortunately, this year's contest had a rather serious element compared to previous years' contests. Ukraine participated despite the difficult time they are going through, after being brutally attacked and invaded by Russia back in February.
But Ukrainians stay strong.
This was again proven by Ukraine's representatives in this year's contest, the Kalush Orchestra, with their victory in Turin tonight.
Winner and host
In 1958, a new initiative was introduced, which has since become a tradition with few exceptions: The winning country will be invited to host the next year's contest.
This means that Ukraine has not only won Eurovision 2022, but also the right to host the Eurovision Song Contest 2023.
There have been six exceptions when the winning country has not hosted the competition the following year. The reason has primarily been that the broadcaster could not afford to host the event:
Can Ukraine host the Eurovision Song Contest 2023?
The big question is: Will Ukraine be able to host the Eurovision Song Contest in 2023? A land that has been invaded, bombed, and has suffered great destruction and death.
If you ask the winner, the Kalush Orchestra, they have no doubt. In several interviews leading up to Eurovision 2022, they had been asked the same question about whether Eurovision 2023 could be held in Ukraine, and they have, every time, answered:
– If we win, the Eurovision Song Contest 2023 will take place in Ukraine. It will be a new, integrated, well-developed and flourishing Ukraine.
This, of course, requires that the war in Ukraine ends soon so that Ukraine will be able to host this mega event next year, and that the country is able to meet the requirements for capacity, economy, logistics and security.
Ukraine won Eurovision in 2016 (Jamala - "1944"), and held Eurovision 2017 in Kyiv. Then, the competition was held at the Kyiv International Exhibition Center.
Will Eurovision 2023 be held in another country?
In the event that Ukraine has not kicked Russia out of the country and that the war drags on, or that Ukraine is simply unable to host Eurovision next year either due to destruction, economics or security, then the competition must be held in another European country.
It's actually the same case if Australia were to win Eurovision.
Since 2015, when Australia was invited to take part in the Eurovision Song Contest, they have participated with one condition: in the event that they won, Australia would have to partner with a European broadcaster to co-host the next year's Eurovision in a European country.
If Ukraine is unable to host Eurovision 2023, they will have the same opportunity: Ukraine would hold the contest in another country in cooperation with that country's broadcaster.
Which country would that be? A good bet would be the United Kingdom who, as you know, finished in second place at this year's Eurovision.
The European Broadcasting Union (EBU), who is in charge of the Eurovision Song Contest, have said in a statement to NBC News that they could not speculate on contingency plans for a Ukrainian win:
– Once we have crowned the winners on Saturday night we'll start to look at those kind of decisions in the following weeks, no matter who the winners are.
According to Martin Österdahl, Executive Supervisor of the Eurovision Song Contest, EBU will now discuss the opportunities for the Eurovision Song Contest 2023 with Ukrainian broadcaster UA:PBC:
– This process will start a couple of weeks after Eurovision 2022, no matter who wins, said Martin Österdahl before the Grand Final.
Shortly after Kalush Orchestra's victory, the President of Ukraine, Volodymyr Zelenskyy stated:
– For the third time in our history, and as I believe, not the last. We will do our utmost to one day host the participants and visitors of Eurovision in Ukrainian Mariupol. Free, peaceful and rebuilt!
– Thank you for winning, Kalush Orchestra, and everyone who voted for us!
The host issue for the Eurovision Song Contest 2023 is full of uncertainties, and we will hopefully be more informed in the next couple of weeks.