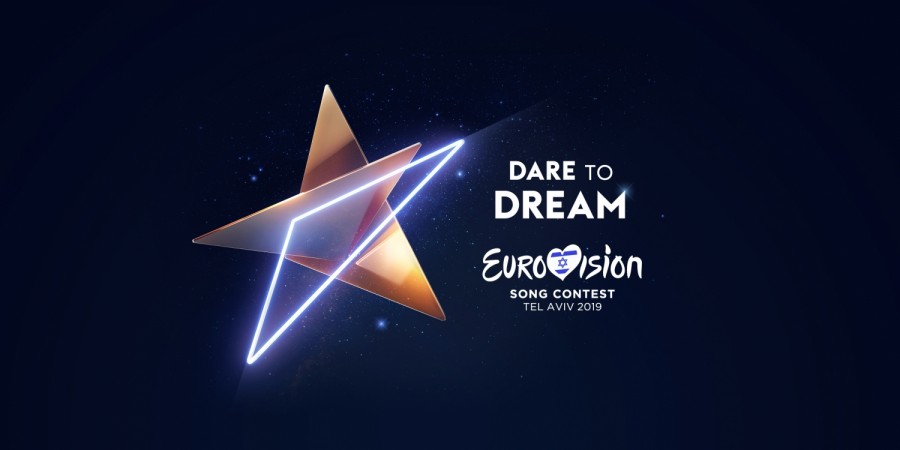 TEL AVIV 2019
Official Eurovision 2019 logo unveiled
The logo for the Eurovision Song Contest has officially been revealed: Three triangles which, when united, shine together to create a golden star
The official logo for Eurovision 2019 now revealed, under the slogan "Dare To Dream". The logo is made of three triangles, creating a golden star. KAN also confirmed today that the first wave of tickets is expected to go on sale at the end of January 2019, soon after the semi-final draws, which is planned for January 28.
This year's logo takes inspiration from Florian Wieder's Eurovision Song Contest 2019 stage design, whose concept uses triangular shapes and structures. We estimate the triagles was selected at the leading shape, as they form the "Star of David", the Jewish symbol which is also used in the Israeli flag.
The slogan and logo have been created by two leading Israeli branding agencies, Awesome Tel Aviv who developed the slogan Dare to Dream and Studio Adam Feinberg (ST/AF) who created the logo.
The Israeli Public Broadcaster KAN said:
– The triangle, one of the world's oldest shapes, is a cornerstone symbol found universally in art, music, cosmology and nature, representing connection and creativity. As the triangles join and combine, they become a new single entity reflecting the infinite stellar sky, as the stars of the future come together in Tel Aviv for the Eurovision Song Contest 2019.
Jon Ola Sand, the EBU's Executive Supervisor of the Eurovision Song Contest, said:
– We are delighted with the logo accompanying KAN's slogan for the 2019 Eurovision Song Contest "Dare to Dream" which perfectly complements the fantastic angular stage design created by Florian Wieder. We hope the creative theme for this year's competition inspires the 42 contestants coming together in Tel Aviv in May, as they dream of becoming the stars of the future.

Dare To Dream
The slogan for Eurovision Song Contest – "Dare To Dream" – was revealed back in October 2018.
– It's about inclusion. It's about diversity. It's about unity, said Jon Ola Sand back then.
| | |
| --- | --- |
| 2002 Tallinn | A Modern Fairytale |
| 2003 Riga | Magical Rendez-vous |
| 2004 Istanbul | Under The Same Sky |
| 2005 Kyiv | Awakening |
| 2006 Athens | Feel The Rhythm! |
| 2007 Helsinki | True Fantasy |
| 2008 Belgrade | Confluence of Sound |
| 2009 Moscow | no slogan |
| 2010 Oslo | Share The Moment! |
| 2011 Düsseldorf | Feel Your Heart Beat! |
| 2012 Baku | Light Your Fire! |
| 2013 Malmö | We Are One |
| 2014 Copenhagen | #JoinUs |
| 2015 Vienna | Building Bridges |
| 2016 Stockholm | Come Together |
| 2017 Kyiv | Celebrate Diversity |
| 2018 Lisbon | All Aboard! |
| 2019 Tel Aviv | Dare to Dream |