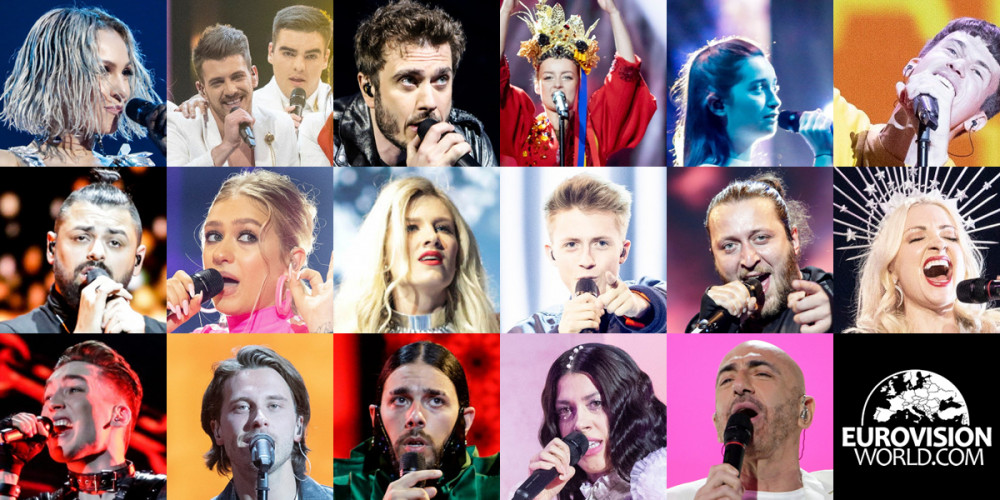 TEL AVIV 2019
Tonight: Eurovision 2019 Semi-final 1
Tonight the first 17 songs will compete in this year's Eurovision and 10 will qualify for Saturday's Grand Final. See all the details, songs and what to expect from tonight's Semi-final 1. Let the Eurovision Song Contest 2019 Begin!
The 64th edition of Eurovision Song Contest begins tonight!
17 songs will compete but only 10 will qualify for Saturday's Grand Final. The show starts at 21:00 CEST, live from Expo Tel Aviv in Israel. Hosts are Bar Refaeli, Erez Tal, Assi Azar and Lucy Ayoub. The running order has been decided by the producer (Israeli broadcaster KAN) based on an allocation draw.
On Thursday Semi-final 2 will find the last 10 qualifiers out of 18 songs.

Lineup Semi-final 1
After the 17 songs from the first Semi-final, a 1-minute preview of three of the six pre-qualified countries will be shown: Israel, France and Spain. These previews have been recorded yesterday at the jury rehearsals.
Opening: Netta
An emotional clip showing an overweight little girl wearing pink – it is 5 years old Netta, who is in front of a TV, watching Dana International win Eurovision Song Contest 1998. The girl is dancing and performing at home, with her parents encouraging & supporting her.
Some of Netta's winning speech from last year is then shown, connecting it with the idea that dreams do come true, and Eurovision 2019 slogan – "Dare to Dream".
We're now inside the arena, Tel Aviv Expo, where Netta is coming out of large Japanese cat figure, performing a new and upbeat remix of last year's winner song "Toy". She is joined by a group of dancers wearing red clothing, similar to her famous Eurovision 2018 dress. She finishes her performance on a lighted Looper, similar to the one she performed with in Lisbon 2018.
And now, a warm welcome to our four hosts: Bar Refaeli, Erez Tal, Assi Azar and Lucy Ayoub.
Let the Eurovision Song Contest 2019 begin!
First six songs. After Czech Republic, the evenings first advertising break takes place. For viewers without commercials, we see the hosts Lucy and Assi interviewing various artists back in the Green Room. Next up is Hungary, with "Az én apám" (English: "My Father"), and the host Erez Tal explains that the word father in Hebrew is "ABBA", exactly like the legendary Swedish band who won Eurovision 1974.
At the second advertising break, which comes after Australia, the host Bar Refaeli is in the middle of the crowd, trying to challenge two Eurovision fans with some trivia questions about Eurovision history, like the names of past Eurovision winners.
Interval Act: Dana International
After all acts have performed, it's time to start the voting. All countries in Semi-final 1 along with the three qualified countries Israel, France and Spain can vote in this Semi-final.
Dana International is now on stage to perform an amazing version of the song "Just The Way You Are" (by Bruno Mars), sending out a message of acceptance and equality. On the LED screens behind her, we see texts like "Love is Love" and the camera is focused on couples from the crowd, with the attempt to encourage to them to kiss (Kiss Cam). The first seconds of her performance is actually a pre-recorded video of her singing.
Host Lucy Ayoub is interviewing the winner of Junior Eurovision 2018, Roksana Węgiel from Poland, with a small snippet of her performance and a teaser for the upcoming Junior Eurovision 2019 to be held in Poland in November.
Then we see a video clip showing a few seconds from most – if not all – postcards, with the A-Ba-Ni-Bi song playing in the background, similar to the postcards preview clip.

Videoclips from previous Eurovision shows, throughout the history are being shown, which includes a mix of performances, made by the Israeli musical creator & producer KUTIMAN.

Assi now interviews Netta about her Grand Final performance "Nana Banana", while she tries to explain the meaning of the words "Nana Banana". Then we see the hosts Erez & Bar promote the official Eurovision 2019 DVD & CD.
Europe. Stop voting now!
Back in the Green Room the hosts Assi & Lucy speak with three of the six pre-qualified countries that will also broadcast and vote in Semi-final 1: Israel, France and Spain. A pre-recorded snippet of the three songs are shown.
Results: The 10 songs qualified for Saturday's Grand Final. Good Night Europe.
Voting
The voting procedure will be the same as previous three years. Each country will have two sets of 1,2,3,4,5,6,7,8,10 and 12 points to give. One set for each country's jury, and one set for each country's televoting.
The 10 songs with most points will qualify to the Grand Final
Each of the 17 countries participating in Semi-final 1 will vote
Each country has a national jury who gave one set of 1,2,3,4,5,6,7,8,10 and 12 points.
Each country will have televoting which also results in a set of 1,2,3,4,5,6,7,8,10 and 12 points
The voting will not be revealed before the Grand Final has finished on Saturday
Only the 10 qualified songs will be revealed in random order
Televoters and national juries have equal weight in the voting
The national juries voted yesterday evening (Monday, 13 May) during the second dress-rehearsal