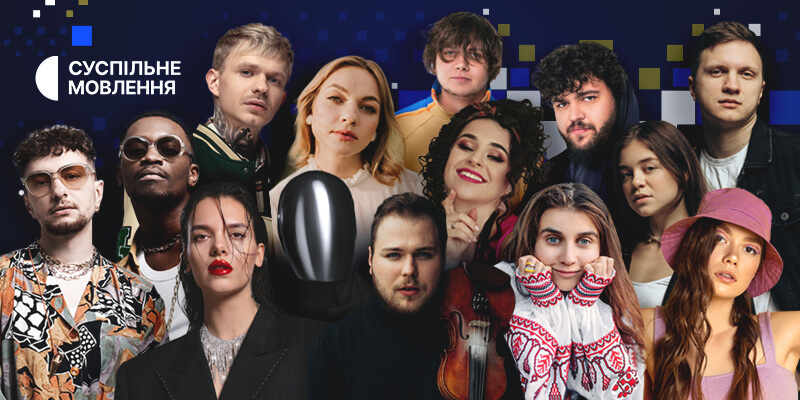 UKRAINE
Ukraine: Lineup for Vidbir 2023 revealed
The 10 names taking part in Vidbir 2023 have been announced. The show will take place on 17 December and the winner will repesent Ukraine at Eurovision 2023

These are certainly not easy times for Ukraine, a country that is still fighting to get their territory back after the ongoing and unjustified Russian invasion. Regardless, the country and its citizens are doing the possible (and impossible) to carry on and live their lives as normal as possible.
Just earlier this year, Kalush Orchestra won Eurovision 2022 with "Stefania." Nonetheless, given the aforementioned state of war, the EBU decided that Ukraine was not eligible to host the competition and handed it over to the United Kingdom, who placed second in Turin thanks to Sam Ryder's "Space Man."
While Eurovision may not be able to take place in Ukraine, a national selection may and will happen. Vidbir 2023 was announced during the summer, and is scheduled to take place at the Maidan Nezalezhnosti metro station in Kyiv on 17 December in a one-night event.
Out of nearly 400 songs received, UA:PBC has shortlisted the entries to 10, and has now unveiled the competing artists and their respective songs:
The producer of the show, Pianoboy, has shared his thoughts on how important is to host a show such as Vidbir in times of war:
– I am personally interested in ensuring that Ukrainian music does not freeze and develops in all directions, so that we have our heroes in all possible musical niches and styles. In my opinion, now, during the war, and with complete uncertainty in the lives of musicians, this selection takes on a special significance: we not only choose those worthy to represent Ukraine at the competition, but also have the opportunity to hear a wide range of Ukrainian music that is being created here and now, no matter what.
The Ukrainian public will not only have a say in who should fly to Liverpool to represent their nation, but in order to keep everything democratic UA:PBC has decided to allow the public to make the decision on who should make up the competition's professional jury.
After half a million votes were cast, the jury panel will feature:
Ukraine in the Eurovision Song Contest
Ukraine is one of the most successful countries in the Eurovision Song Contest.
Out of 17 appearances, Ukraine has: