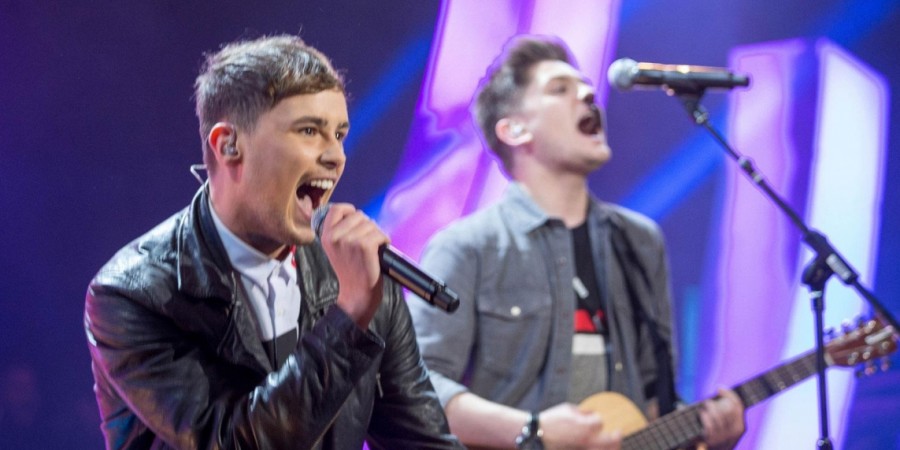 UNITED KINGDOM
United Kingdom: Joe & Jake decided for Eurovision
Joe & Jake won tonight's "Eurovision: You Decide" in United Kingdom with the song "You're Not Alone". Six entrant fought in the extravaganza from London
Tonight in an extravaganza at the O2 Forum in Kentish Town, the British public decided that Joe & Jake was their winner with the song, "You're Not Alone" and will represent the United Kingdom in the Eurovision Song Contest 2016 in Stockholm.
Eurovision: You Decide – songs

Running order


Dulcima – "When You Go"
Matthew James – "A Better Man"
Darline – "Until Tomorrow"
Karl William Lund – "Miracle"
Bianca – "Shine A Little Light"
Joe and Jake – "You're Not Alone"
All 6 acts sang their hearts out but the British public decided that their representative for 2016 is Joe & Jake:
More videos, Lyrics and Rating of "You're Not Alone"
Joe & Jake
Joe Woolford & Jake Shakeshaft participated in the fourth series of the talent show "The Voice UK" and became a duo after the show ended.
In United Kingdom they were known as separate artists after The Voice UK, but they wanted to be known as a duo, and since they both love Eurovision, they decided to participate in the British selection, dreaming about potentially represent their nation.
»Eurovision is such a great competition, it has a massive stage and we've always liked Eurovision. We thought that if we could ever get the chance to potentially represent the UK, it would be a dream come true, and in front of such a huge crowd as well, it would be a great start for us as a duo«

Joe & Jake


Speaking to unrealitytv.co.uk Jake said about the song "You're Not Alone": »It is always great to see people are loving the track. We worked really hard on it and we love it. It's great to see people love it as much as we do and there has been a good reception. It makes us quite proud so it is great (...) It is an anthem and it is how we have labelled the song. It is a big song. We really want this song to do well; we want to change the perception of the UK in Eurovision. We want people to say: "The UK has done really well this year".«
Joe's favorite previous Eurovision act is Loreen's "Euphoria" from 2012: »That was such a fantastic performance. The song was amazing, she sang is amazingly, and the whole performance was mesmerizing.«, Joe says to unrealitytv.co.uk. Jake's favorite is Måns' "Heroes" from 2015.
Eurovision: You Decide
The show "Eurovision: You Decide", hosted by Mel Giedroyc, opened with an electrifying performance from Mans Zelmerlow, the winner of Eurovision in Vienna in 2015. The staging recreated the song "Heroes" from last year perfectly. Katrina and the Waves, the last British Eurovision winner in 1997, performed "Love Shine a Light" after the acts. A tribute was paid to the late great Sir Terry Wogan who commentated on the Eurovision for many years before his recent death.
United Kingdom has participated in Eurovision Song Contest 58 times since 1957. United Kingdom only skipped the contest two times: 1956 and 1958. They have won Eurovision five times:

...and finished in 2nd place 15 times! They only came last one time (2003), where they also entered the Club Nul.
United Kingdom is a member of "Big 5", so they don't have to go through the Semi-final qualifications, but are automatically qualified for the Grand Finals.