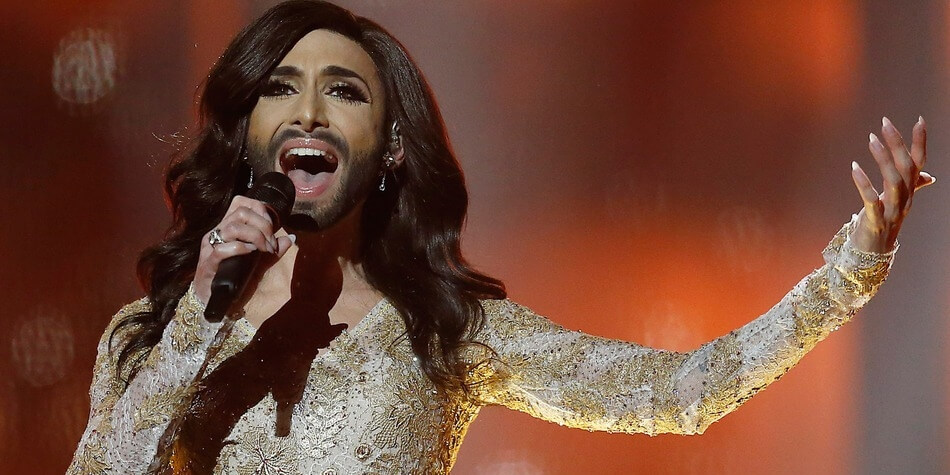 EUROVISION 2020 CANCELLED
Conchita and Sunstroke Project win the first show of Adresse Europa in Norway
The first show in Norway with memorable Eurovision moments and a tied winner
As recently announced by the Norwegian broadcaster NRK, the nation will air Eurovision related shows like Sweden, Iceland, Austria and Australia are currently doing.
The first show focused on memorable past entries from Sweden, Netherlands, Moldova, Romania, Germany, San Marino, Austria, Belgium, Azerbaijan, Ukraine and Montenegro.

Memorable Eurovision moments with Conchita from Austria with the song "Rise Like a Phoenix" and Sunstroke Project& Olia Tira from Moldova with the song "Run Away" both won the first show scoring 92 points each.
Adresse Europa – Show 1 Results
Conchita (Austria 2014: Rise Like a Phoenix - 92 points)
Sunstroke Project & Olia Tira (Moldova 2010: Run Away - 92 points)
Dschinghis Khan (Germany 1979: Dschinghis Khan - 84 points)
Carola (Sweden 1983: Främling - 79 points)
Verka Serduchka (Ukraine 2007: Dancing Lasha Tumbai - 77 points)
Cezar (Romania 2013: It's My Life - 67 points)
Sandra Kim (Belgium 1986: J'aime la vie - 66 points)
Teach-In (Netherlands 1975: Ding-a-dong - 65 points)
Elnur and Samir (Azerbaijan 2008: Day After Day - 60 points)
Slavko Kalezić (Montenegro 2017: Space - 56 points)
Valentina Monetta (San Marino 2012: The Social Network Song - 44 points)
One can re-watch the first show on the NRK website, but the second show of Adresse Europa will return Saturday 26 April at 21:20 CEST.
Adresse Europa
Every Saturday from 18 April, NRK will broadcast a total of four shows that will be looking at the memorable songs, the most spectacular performances and the wildest costumes seen of Eurovision.
These shows will be hosted by Marte Stokstad together with a panel formed will share their opinions and will determine a winner. The panel includes:
Ingeborg Heldal (editor for the women's magazine KK)
Per Sundnes (former MGP general)
Bendik (Norwegian artist better known as Silje Halstensen )
Jan Thomas (Stylist)
During each show four Eurovision fans will also give their opinions on the aired clips and vote together with the Norwegian panel.
Since the debut in 1960 Norway has participated 58 times in Eurovision. They have won the competition three times:
In 2009, Alexander Rybak's Fairytale was the song that has received most points with the old voting system: 387 points – got 12 points from 16 countries. But Norway holds another Eurovision record: The country that ended last most times – 10 last places!
Since the introduction of Semi-finals in 2004, Norway has been very succesful with qualification to the Grand Final 13 out of 16 times.