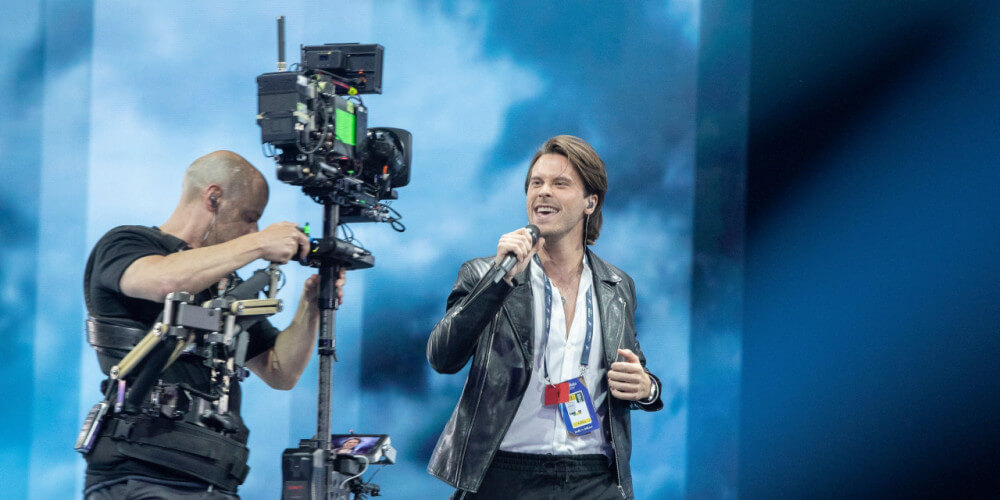 REHEARSALS
Eurovision 2019 Semi-final 1: Second rehearsals
Today the rehearsals continued with the first 15 contestants from Semi-final 1, having their second rehearsal in Tel Aviv. Watch the videos from the rehearsals here
The first 15 countries from Semi-final 1 had their second rehearsal today. Tomorrow the last two countries from Semi-final 1, Greece and San Marino, will follow with their second rehearsals. After this, the first half of Semi-final 2 will go on the Eurovision stage for the 2nd time, and finally the pre-qualified countries will have their first rehearsals in Tel Aviv.
We will review all the rehearsals, and give our opinions if each song will qualify or not.
2nd rehearsals (20 minutes)
After the 2nd rehearsal each delegation go to the Viewing Room again to see the result. Small adjustments can be made. After this, each delegation will hold a Press Conference.
Videos
A 30-second "Exclusive Rehearsal Clip" or TV Footage (as it will look on television) of each of the countries' rehearsals can be seen here when available:
Semi-final 1 (first 15 countries)
2nd rehearsals, Thursday 9 May
Will qualifyThere's hardly any doubts and the bookmakers agree. Tamta's staging is spectacular, the song catchy and she serves stage presence. The breathing and vocals may need a tiny bit of work though. As if it wasn't enough, she will benefit from Cyprus' exposure from last year and also from the Greek vote.
Will not qualifyIt will be unlikely to see Montenegro making it through the final, especially if we consider it is coming after such a powerful performance from Cyprus. Sonically it may not be as captivating as well and the fact that there are six people on stage doing their own thing may hurt them too.
Darude feat. Sebastian Rejman
Will not qualifyAnother tough decision as it is quite uncertain. The song is far from unique and Sebastian's vocals aren't flawless. On top of that, his outfit is distracting. The fact that this performance has to rely on a dancer makes us think that Finland won't be seeing the Grand Final this year.
May qualifyPoland may well benefit from being Poland. The song is not exactly what one would hear on the radio as it is highly folk influenced. Their harmonies were not made for everyone. Nonetheless it is unique and their performance looks good enough on TV - not to mention the impeccable vocals. It's our first maybe.
Zala Kralj & Gašper Šantl
Will qualifyIt is a monotone song but in a good way. Its spacial and nostalgic type of staging can indeed be its strength but also a weakness if viewers are looking for something else. The song is a grower and based on the rehearsal, we believe all the emotions will come through the viewers during the first semi-final. It's a yes.
Will qualify"We are Lake Malawi from the Czech Republic!" Lake Malawi gives a fun and light performance with Albert Černý jumping around on the stage while singing. Colorful and fresh. We are greatly positive that they will qualify for the Grand Final.
Will qualifyJoci Pápai does it again, with his powerful barefoot performance. His performance is full of emotion and passion, and the staging with the "fathers" on the LED screens matches the song. We are quite sure that Joci will qualify and join the Final like he did in 2017.
May qualifyYes, you're gonna like it - or maybe not? Although Zena's performance is poppy, it is also a demanding song vocally and physically. Zena wears a different outfit today than she did at her first rehearsal on Saturday. It's a song full of energy, and with all the effort, she may actually qualify but it's still uncertain.
Will qualifyVocals and staging are strong, and Nevena amazes us with a strong performance with lots of power. Her black dress and beautiful pose really adds flare to her performance. But is the quality of the song as good as Nevena's talent? We believe so and because of such, Nevena should be heading to the Grand Final!
Will not qualifyEliot performance tries to send a strong and dramatic vibe using big drums. Nonetheless, Eliot seems to lose himself in the middle of all that big production. The song ends up losing power and because of that Belgium may not qualify.
Will not qualifyOto Nemsadze is vocally strong and stable. He sings with power and passion, and performs with 5 backvocalists and lots of added pyro. The taste for this type of patriotic song and performance might be limited. We believe it won't make it to the Final.
Will qualifyThere's absolutely no question for Australia. Not only the vocals are on point but the performance will be one to remember! Kate Miller-Heidke's flawless vocal combined with bringing Zero Gravity physically onto the stage, where Kate and two dancers are "swinging" on poles. It works, and it is really impressive. This "Zero Gravity" concept will do wonders for them!
Will qualifyDifferent, unique and eye-catching. Just like Australia, there are no doubts we'll see Hatari in the Grand Final. Their performance is powerful and won't satisfy everyone but will be more than enough to create controversy and put Eurovision in more fields other than Pop music.
Will not qualifyIt is hard to tell. While the song may please the viewers at home for being easy to take in due to his Pop meets Country sound, the performance comes off as too basic and non-impactful with Victor all alone on stage. There's a pre-recorded green scene that will hardly help.
May qualifyIt is so uncertain for Portugal. While the song is so interesting and the performance eye-catching - mostly due to what he is wearing on stage - it may also come off as too weird for the European people who will only understand he is singing about "mobile phones". Nonetheless, there's no doubts people will talk about it.
Semi-final 1 (last 2 countries)
2nd rehearsals, Friday 10 May
Will qualifyYesterday we kicked things off with Cyprus and we claimed there was no doubt Tamta would make it. Well, there's no doubt her friend Katerina Duska either. Not only the performance's art is quite beautiful to look at but Duska's vocals sound impeccable and flawless. Greece may even win the overall semi-final, in fact.
May qualifyThe staging is good, the song is really catchy and Serhat is an Eurovision icon. Despite all those positive facts, one can't forget we are talking about San Marino that has only qualified once for a Grand Final. It is hard to predict if San Marino will qualify. We'll give it a maybe.
Opinions on who's qualifying and who's not may change throughout the day.