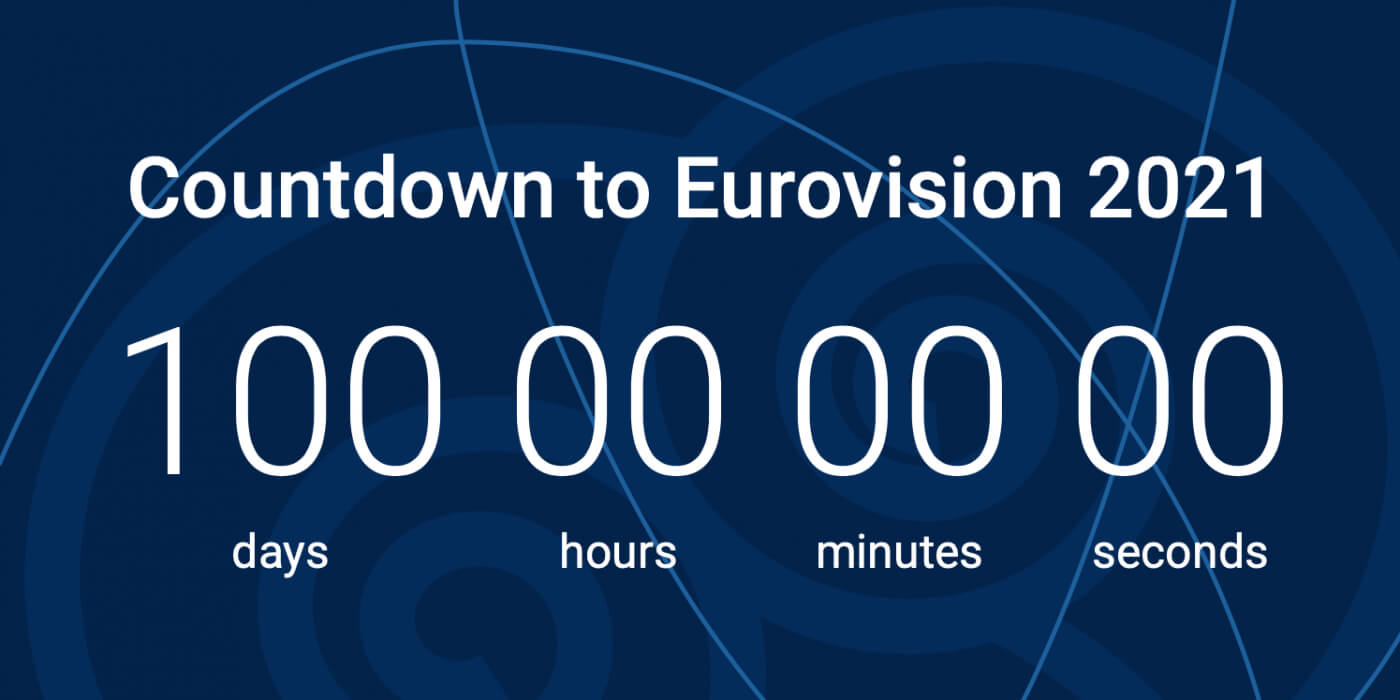 ROTTERDAM 2021
Eurovision 2021 countdown: 100 days! What do we know so far?
In just 💯 days Eurovision Song Contest 2021 begins with the first semi-final. Lets take a recap: What do we know so far?
It is not the Final Countdown. But it's the Semi-final Countdown! This is where Eurovision begins.
With 100 days left before the first show of Eurovision Song Contest 2021 in Rotterdam is aired, it's time for a round up of some of the facts we know so far about the biggest music competition in the world. The 2021-edition will feature 41 songs from 41 countries.
Eurovision Song Contest 2021 takes place in Rotterdam, the Netherlands:
Songs & Artists
5 countries are ready with songs and artists selected for Rotterdam:
Click on a song title to see video, lyrics and details about each song
Artists
23 countries have chosen their artists to send to Rotterdam:
Australia: Montaigne
Austria: Vincent Bueno
Azerbaijan: Samira Efendi
Belgium: Hooverphonic
Bulgaria: Victoria
Cyprus: Elena Tsagrinou (Song title: "El Diablo" – not released yet)
Czech Republic: Benny Cristo
Georgia: Tornike Kipiani
Germany: Jendrik Sigwart
Greece: Stefania (Song title: "Last Dance" – not released yet)
Iceland: Daði & Gagnamagnið
Ireland: Lesley Roy
Latvia: Samanta Tīna
Malta: Destiny
Moldova: Natalia Gordienko
Netherlands: Jeangu Macrooy
North Macedonia: Vasil
Romania: Roxen
San Marino: Senhit
Serbia: Hurricane
Slovenia: Ana Soklič
Spain: Blas Cantó
Switzerland: Gjon's Tears
National selections
Preparations are at full speed in the 41 countries participating in Rotterdam. The national selections peak in a few weeks, and so far 4 countries have finished their selections, shows and competitions while 2 countries are in the process of finding their representatives for Rotterdam through a national selection:
The big Eurovision selection day will be Saturday 6 March, where four countries will select their artist and song for Eurovision 2021. Still there are some countries who haven't announced the dates for their national selection, and still a few countries where it is unsure if they are organizing a national selection process, or just pick an act internally.
Eurovision 2021 and COVID-19
We are all affected by the worldwide COVID-19 pandemic. Eurovision Song Contest 2021 can not take place "as normal" this year. But Eurovision will take place!
The European Broadcasting Union (EBU) and Dutch Host Broadcasters NPO, NOS and AVROTROS have since September been working on 4 scenarios for hosting Eurovision 2021.
Now the organizers of Eurovision Song Contest 2021 have agreed upon a determined, yet realistic approach in the final phase of preparations.
In response to the ongoing coronavirus pandemic the organizers have ruled out that Eurovision 2021 can be held "as normal". This means that Scenario A will not go ahead. Instead, the organizers will focus on Scenario B as the most possible scenario.
Odds
Some of the bookmakers have already started to rank each country for Eurovision 2021. The odds are of course very uncertain for the moment as we are still at a very early stage where many countries have not yet released their song for Rotterdam.
Historical statistics have a great influence on how the bookmakers price each participant's song. If a country has been statistically successful at Eurovision, bookies will take this into account in their odds pricing. This is particularly happening in the initial phase, where the song is not even released.
In the coming months, more and more bookmakers will launch odds on Eurovision Song Contest, so the bookmakers' predictions will become more and more interesting.
Who's in which Semi-final?
The Semi-final allocation draw determines which country will perform in which of the two Semi-finals.
There was no Semi-final allocation draw for Eurovision this year. Instead, the allocation from last year will remain the same for Rotterdam 2021. This is because Eurovision 2020 was cancelled, and the exact same countries will participate this year – So no need to make another draw.
Tickets
After Eurovision 2020 was cancelled, it was announced that tickets bought for Eurovision 2020 would remain valid for 2021.
Just 4 days ago, the organisers of Eurovision 2021 announced that we can't expect a "normal" Eurovision this year. If any audience is allowed in side the Ahoy Arena in Rotterdam, there will be reduced capacity. All tickets for Eurovision 2021 will therefore be refunded, with an option to repurchase tickets for the same show.
Event
The host city remains the same as planned for last year (Rotterdam, in case you have been sleeping the last year), and the dates are also set: 18, 20 & 22 May 2021.
The arena is selected: Rotterdam Ahoy, and the stage design has been revealed: Another master piece by Florian Wieder.
Open Up! Logo & Slogan for Eurovision 2021 have been revealed – (almost) the same as planned for Eurovision 2020.