Eurovision Song Contest 2021: Rotterdam
Eurovision Song Contest 2021 will be held in Rotterdam, the Netherlands in May 2021, after Eurovision 2020 was cancelled due to coronavirus. Find all the information about Eurovision 2021: Date, City, Participants, Arena, Eurovision Village, Euroclub and Euro Café
We will update this page with all the information about Eurovision 2021 as it appears.
The slogan for Eurovision 2021 will be Open Up and the logo and theme artwork had also been designed – everything copied from the cancelled Eurovision 2020.
The contest will have three hosts: Chantal Janzen and Jan Smit as main hosts, while Edsilia Rombley will host the Green Room.
When is Eurovision 2021?
The Eurovision week will have three shows: Semi-final 1 on Tuesday, Semi-final 2 on Thursday and the Grand Final on Saturday.
Semi-final 1: 18 May 2021
Semi-final 2: 20 May 2021
Grand Final: 22 May 2021
Eurovision 2021 and COVID-19
The European Broadcasting Union (EBU) and Dutch Host Broadcasters NPO, NOS and AVROTROS are working on 4 basic scenarios for hosting Eurovision 2021, depending on the status of COVID-19. Read more: Here are the 4 scenarios.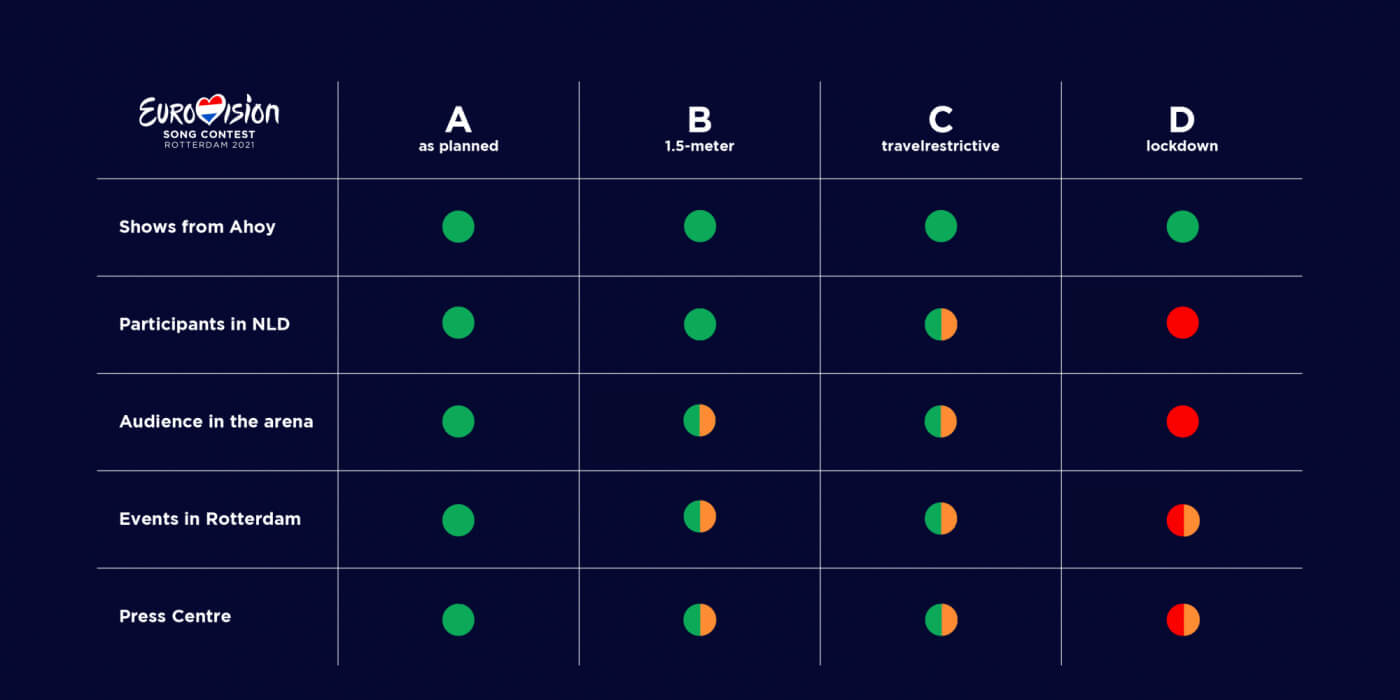 Host City: Rotterdam
Eurovision Song Contest 2021 will be held in Rotterdam, the Netherlands. It was confirmed on the night the Grand Final of Eurovision 2020 was supposed to be held.
Following the cancellation of the Eurovision Song Contest 2020, the European Broadcasting Union, EBU and the Dutch broadcasters NPO, NOS and AVROTROS and the City of Rotterdam entered discussions on the possibilities of hosting Eurovision 2021 in Rotterdam.
Arena: Rotterdam Ahoy
Rotterdam's Ahoy Arena was chosen as the arena for Eurovision Song Contest 2020. It is almost certain that Eurovision 2021 will be held in Ahoy Arena.
The director of Ahoy Arena in Rotterdam, Jolanda Jansen, said:

– We will do everything we can to organise Eurovision 2021 in Ahoy Arena.
Rotterdam Ahoy consists of three halls with the largest being with a capacity of 15,000, which meets all the conditions set by the European Broadcasting Union (EBU).
Two smaller halls in the complex have a capacity of 6,000 and 4,000, Perfect for delegations and press centre.
Rotterdam Ahoy hosted Junior Eurovision 2007.
Participants
39 countries have expressed their initial interest for participation in the contest, which is subject to change:
Some of the artists remain the same as for Eurovision Song Contest 2020. Each country's broadcaster decide if their 2020-artist will represent their country at Eurovision 2021, or if they will select another artist.
List to be updated···

Tickets
The tickets bought for Eurovision 2020 will be valid for Eurovision 2021 or refunded. More tickets will most probably go on sale in 2021.
Read more: How to get tickets for Eurovision 2021.
Eurovision Village
Eurovision Village is the official festival area during Eurovision Song Contest 2021.
In Eurovision Village you can seen live performances by artists, DJs, special events and public viewing of the shows broadcast from the Arena.
In 2020, the Eurovision Village was planned to be held in Rotterdam's Binnenrotte near the Blaak Markt.
Euroclub
The EuroClub is the venue for some special parties, the official after parties and performances by participants.
Access to Euroclub is only for accredited persons. It has not been announced if there will be special OGAE accreditations for OGAE members (like Malmö 2013 and Stockholm 2016), or if fans can get access to Euroclub with special tickets (like Copenhagen 2014, Kyiv 2017 and Tel Aviv 2019).
In 2020, EuroClub should have been located at the venue Maassilo in Rotterdam. Maassilo is a former grain silo in Rotterdam Maashaven and has been an event venue since 2004. The complex consists of 15 halls, where the largest one is 1,100 m2 with a capacity of 2,000 guests.

Euro Café
EuroCafe (also known as Euro Fan Café) is the place for fans to meet for parties and special events during the Eurovision week. EuroCafe is organized by the OGAE fan clubs.