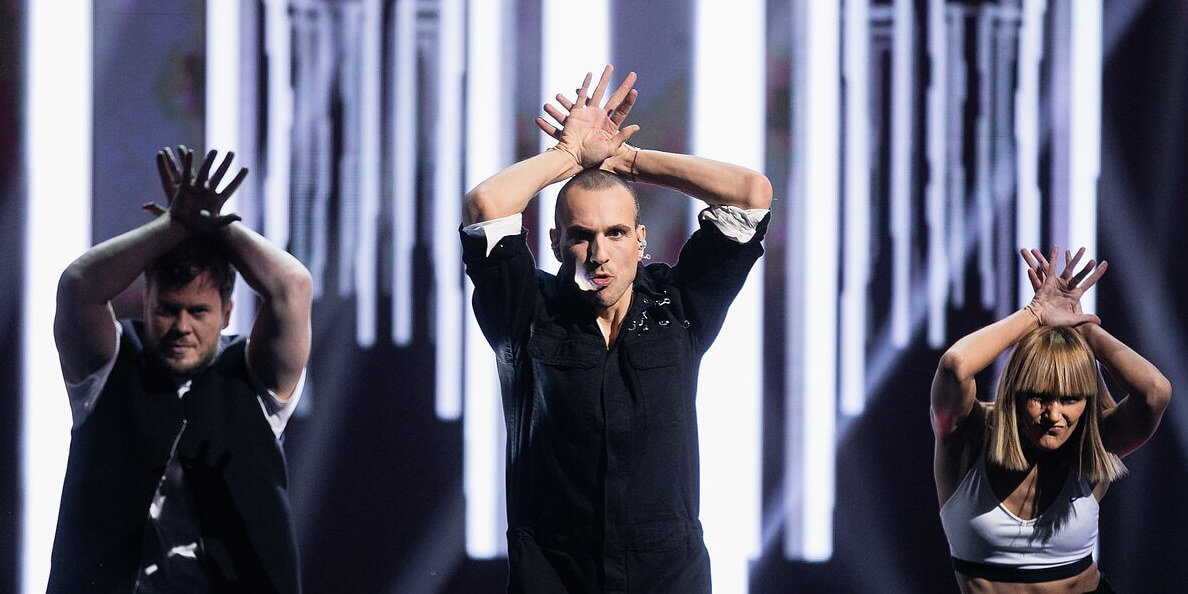 EUROVISION 2020 CANCELLED
The Roop from Lithuania wins the German Eurovision 2020 alternative show
With a combined jury and televote, Germany has their own Eurovision 2020 winner after a semifinal and a grand final show
The German nation is celebrating Eurovision with an alternative Eurovision Song Contest due to this year's cancellation and also airing previous editions.
On Saturday 9 May viewers watched World Wide Wohnzimmer which was considered as a semifinal show. All forty one music videos for the entries that were due to be Rotterdam were presented and invited viewers to vote for their favorites via televoting and also online voting to combine them with a jury vote. At the end of the semifinal show, we had a top 10 that advanced to tonight's Grand Final show, Eurovision Song Contest 2020: Das deutsche Finale.
The Roop from Lithuania was crowned as Germany's Eurovision Song Contest 2020 winner.
Eurovision Song Contest 2020: Das deutsche Finale - Results
Lithuania: The Roop – On Fire (22 points)
Iceland: Daði og Gagnamagnið – Think About Things (19 points)
Russia: Little Big – Uno (17 points)
Malta: Destiny – All of my Love (10 points)
Denmark: Ben & Tan – Yes (9 points)
Sweden: The Mamas – Move (9 points)
Switzerland: Gjon's Tears – Répondez-moi (9 points)
Italy: Diodato – Fai rumore (8 points)
Bulgaria: Victoria – Tears Getting Sober (8 points)
Azerbaijan: Efendi – Cleopatra (5 points)
The German representative Ben Dolic was due to represent the Big 5 nation in Rotterdam with "Violent Thing".
Eurovision Song Contest 2020: Das deutsche Finale - The Show
The show was hosted by Barbara Schöneberger live from Hamburg Elbphilharmonie.
The broadcast of the Grand Final included the top ten qualifiers from the first show World Wide Wohnzimmer. During the show recordings of the most beautiful, touching and terrible appearances of these countries from the past 64 years also aired. Ben Dolic gave viewers a performance of "Violent Thing". Michael Schulte also gave a performance during the show. He represented Germany in the Eurovision Song Contest 2018 with the song "You Let Me Walk Alone".
During the show, the viewers voted to determine who will be the Eurovision Song Contest 2020 winner for Germany.
Germany is a grand old country in the Eurovision Song Contest. They have participated 63 times since the beginning of ESC in 1956. The only year Germany didn't participate was in 1996. Prior to the competition in 1996, 30 countries had signed up for participation, so EBU had to make a selection. Judges from the countries made a secret voting, where the 22 best qualified. During this voting, the judges only listen to but didn't watch the contestants. This turned out to be highly unpopular, and it was also the only time this method was used. The result of the voting was that Germany was ruled out. This was the first and only time Germany didn't participate in Eurovision Song Contest.
Best result is two victories in 1982 (Nicole - "Ein Bißchen Frieden") and 2010 (Lena - "Satellite"), and the worst is seven last places. They are also a member of "Club Nul Points", with nul points in 1964, 1965 and 2015.