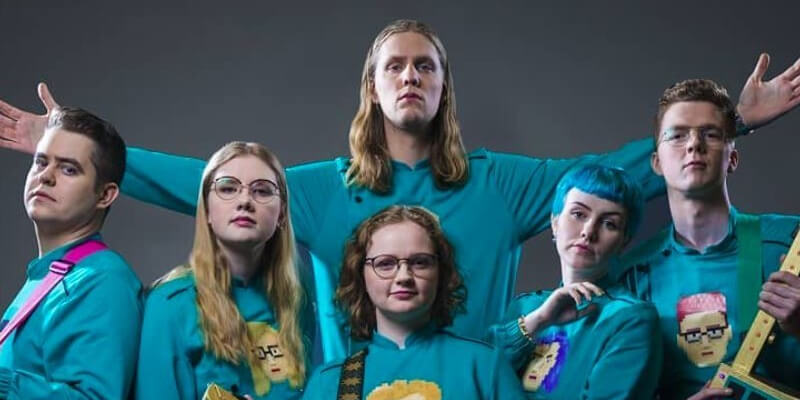 EUROVISION 2020 CANCELLED
Iceland wins Norway's alternative Eurovision 2020
Think About Things: Daði og Gagnamagnið win another alternative Eurovision 2020 show. Tonight, the Norwegian public voted on Iceland as winner
During the past four weeks, Norway aired Adresse Europa which focused on a number of memorable past entries while giving opinions and scoring according to their personal tastes.
Due to the current worldwide situation and the Eurovision Song Contest 2020 cancellation, Norway unveiled Norge bestemmer, an Alternative Eurovision 2020 giving the nation the chance to choose a winner. The entries presented during the show where chosen on the basis of odds, stream numbers and fan rankings. One could later vote online from these entries.
The nation decided that Daði og Gagnamagnið from Iceland is Norway's Eurovision Song Contest 2020 winner.

Norge bestemmer - Results
Iceland: Daði og Gagnamagnið – Think About Things
Russia: Little Big – Uno
Lithuania: The Roop – On Fire
Italy: Diodato – Fai Rumore
Malta: Destiny – All Of My Love
Sweden: The Mamas – Move
Switzerland: Gjon's Tears – Répondez-moi
Bulgaria: Victoria – Tears Getting Sober
Germany: Ben Dolic – Violent Thing
France: Tom Leeb – Mon alliée (The Best in Me)
Azerbaijan: Efendi – Cleopatra
Romania: Roxen – Alcohol You
Ulrikke was due to represent Norway in Rotterdam with the song "Attention".
Norge bestemmer - The show
The show was hosted by Marte Stokstad, who was recently appointed as the new commentator for Eurovision Song Contest in Norway. Norge bestemmer gave the viewers the opportunity to vote for this year's winner. The first part of voting was held online through the MGP portal. The entries that will got most votes will progressed to the live show where public once again had to vote for their 2020 winner making Norway finding their alternative winner for the year.
In addition to this, there were a number guests and music in the studio during the broadcast. The program will also paidtribute to this year's Norwegian representative Ulrikke who was due to represent the nation with the song "Attention".
Since the debut in 1960 Norway has participated 58 times in Eurovision. They have won the competition three times:
In 2009, Alexander Rybak's Fairytale was the song that has received most points with the old voting system: 387 points – got 12 points from 16 countries. But Norway holds another Eurovision record: The country that ended last most times – 9 last places!
Since the introduction of Semi-finals in 2004, Norway has been very succesful with qualification to the Grand Final 13 out of 16 times.