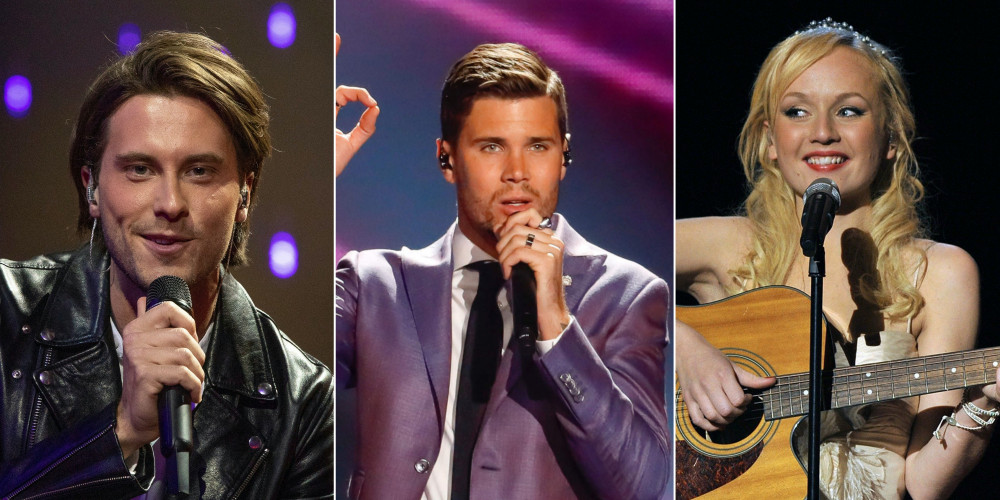 SWEDEN
Sweden: Here are the Melodifestivalen 2020 participants
The line-up for Melodifestivalen 2020 has just been announced, including Victor Crone, Robin Bengtsson and Anna Bergendahl. See all the 28 artists and song titles here
The artists of next year's Melodifestivalen were presented at a live press conference today, held by the Swedish broadcaster SVT.
Among the 28 there are four former Eurovision Song Contest participants: Victor Crone (Estonia 2019), Robin Bengtsson (2017) and Anna Bergendahl (2010), Nanne Grönvall (1996, as part of the group "One More Time") and several former Melodifestivalen artists. The Mamas were backing vocalists for John Lundvik (2019).
27 acts have been selected by the Swedish national broadcaster SVT, and one act (Amanda Aasa) were selected via P4 Nästa back in August. A total of 28 acts will compete in Melodifestivalen 2020, and one of these will represent Sweden at Eurovision Song Contest 2020 in Rotterdam.
12 of the 28 songs are in Swedish language.
Melodifestivalen 2020 Line-up
Deltävling 1 Linköping, 1 February
Malou Prytz – "Ballerina"
Felix Sandman – "Boys with emotions"
OVÖ – "Inga problem"
The Mamas – "Move"
Suzi P – "Moves"
Sonja Aldén – "Sluta aldrig gå"
Robin Bengtsson – "Take a chance"
Deltävling 2 Göteborg, 8 February
Linda Bengtzing – "Alla mina sorger"
Dotter – "Bulletproof"
Anna Bergendahl – "Kingdom come"
Thorsten Flinck – "Miraklenas tid"
Klara Hammarström – "Nobody"
Paul Rey – "Talking in my sleep"
Mendez feat. Alvaro Estrella – "Vamos amigos"
Deltävling 3 Luleå, 15 February
Faith Kakembo – "Crying rivers"
Amanda Aasa – "Late" (from P4 Nästa)
Albin Johnsén – "Livet börjar nu"
Drängarna – "Piga och dräng"
Mariette – "Shout it out"
Anis don Demina – "Vem är som oss"
Mohombi – "Winners"
Deltävling 4 Malmö, 22 February
Hanna Ferm – "Brave"
Nanne Grönvall – "Carpool karaoke"
William Strid – "Molnljus"
Jakob Karlberg – "Om du tror att jag saknar dig"
Ellen Benediktson & Simon Peyron – "Surface"
Victor Crone – "Troubled waters"
Frida Öhrn – "We are one"
Melodifestivalen 2020
Melodifestivalen 2020 will be the 60th edition of the Swedish selection for Eurovision.
1 February: Deltävling 1 (Linköping)
8 February: Deltävling 2 (Göteborg)
15 February: Deltävling 3 (Luleå)
22 February: Deltävling 4 (Malmö)
29 February: Second Chance (Eskilstuna)
7 March: Final (Stockholm)
The format for Melodifestivalen 2020 is the same as last year: Each of the 4 heats qualifies 2 songs directly to the final. Each of the 4 heats qualifies 2 songs to the "second chance"-show. In the "second chance" 4 songs will be selected for the final.
Hosts of the shows are David Sundin, Lina Hedlund and Linnea Henriksson.
Tickets for all the shows are on sale on livenation.se
Since 1958 Sweden has participated 59 times in Eurovision Song Contest with great succes. They have won the contest 6 times:
They came last two times (1963 and 1977), and since the introduction of the Semi-finals in 2004 Sweden managed to qualify for the Grand Final 15 out of 16 times! (only skipped the qualification in 2010)