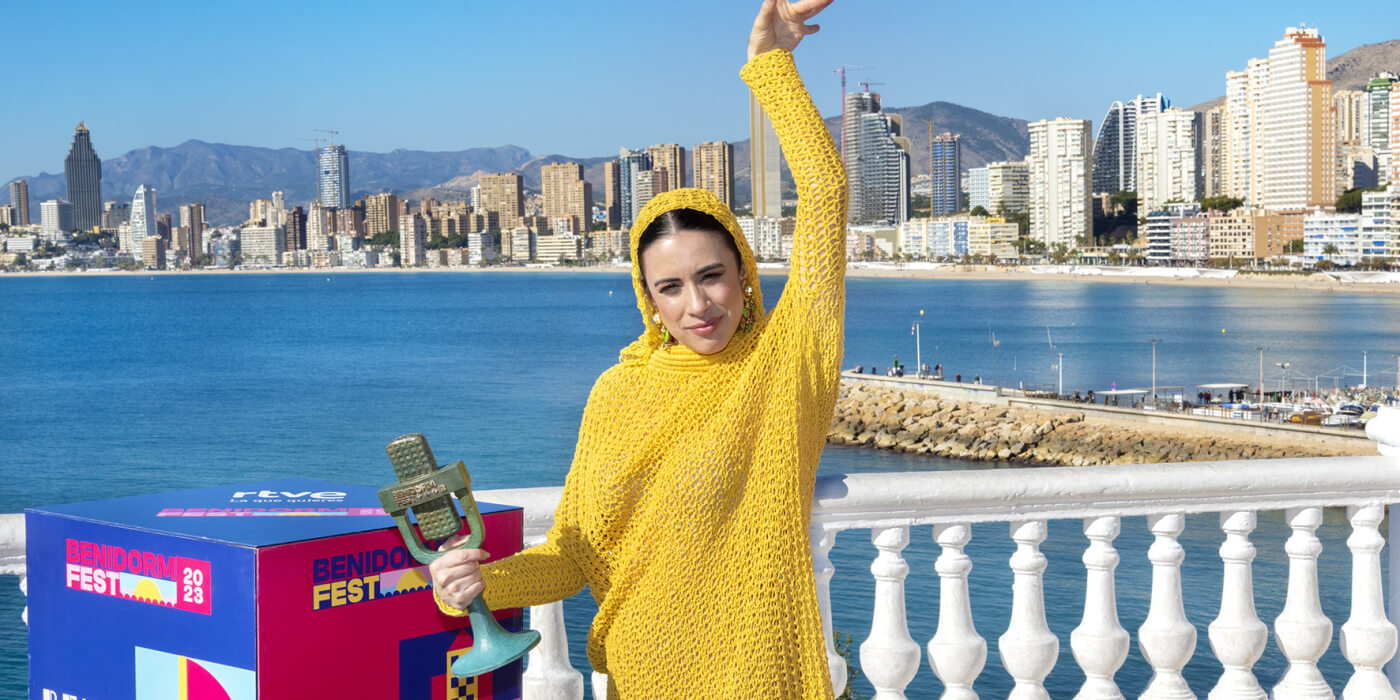 SPAIN
Benidorm Fest: Eurovision on a smaller scale
Chanel's triumph in Turin was the trigger Spain needed to resurrect their Eurovision spirit. The city of Benidorm dressed up for the occasion and welcomed media and fans from all over the world to experience first hand what they could do and offer. In a few words, Eurovision on a smaller scale
Chanelazo could be described as a movement dedicated to bringing Spain back to Eurovision glory by depositing every inch of hope in Chanel's hypnotic "SloMo" and its unforgettable performance that truly paid off at Eurovision 2022 by finishing third.
The journey started with the announcement of a new selection process for the country back in 2021: Benidorm Fest. The intention was to bring the previous success of Festival de la Canción, also held in Benidorm, back to life and restore the nation's Eurovision spirit that up until then seemed to be "lost" according to Leire Bilbao, the head of Visit Benidorm:
– RTVE (Spanish broadcaster), along with the Valenciana Community and the Benidorm City Hall, agreed to start working on the product that eventually became Benidorm Fest. It's a sequel to Festival De La Canción, which takes us back to 1959 and had its time. Its format became old and was quite limited. Therefore, new generations didn't accept it as it wouldn't follow the evolution of music.
Regardless, and even though the show eventually ended in the early 2000s, it became part of Benidorm's story and inherent to its culture and to the DNA of Spanish music.
It served as the inspiration to build the new Benidorm Fest and promote new Spanish talent, music and diversity but...Wasn't it a risk?
– Well, we always looked at it as an opportunity, continues Leire.
– But that's true. Neither RTVE nor the Benidorm City Hall thought it would've turned into the success it did. We were conscious it was a work in progress that needed to be polished and eventually would work, but the Chanel effect, or Chanelazo, was phenomenal for us, for the festival, and gave it a brand new image.
The professional jury
As mentioned above, Chanel was the winner of the first edition of the Benidorm Fest with her song "SloMo." It quickly became a fan favorite and garnered Spain its best result since 1995 when Anabel Conde performed "Vuelve Conmigo" and finished second. Nonetheless, the victory in Benidorm Fest 2022 was met with heavy criticism given the weight of the jury vote (50%), which ended up contradicting the televote's desire – worth 25% – who massively voted for Tanxugueiras instead.
Tanxugueiras, who finished third, gathered a total of 70.75%, whereas Chanel only gathered 3.97% of the televote. The internet caught fire, but that didn't stop RTVE who kept the same voting method for the 2023 edition. We discussed that factor with Maria Eizaguirre, the head of communication in RTVE:
– Everyone chooses a formula, and RTVE chose to have a process featuring a professional jury, which implies having people with established criteria who will assume part of the responsability of choosing Spain's candidate.

Given this year's voting figures, it's not surprising RTVE decided to maintain the process. Despite the fact that Benidorm Fest 2023 was cumulatively watched by approximately 4.1 million people, only about 56,482 votes were cast.
Maria mentioned the criteria from the jury. While in Benidorm, we had the chance to speak with Christer Björkman, a prominent name in the Eurovision world who was part of the jury panel for Benidorm Fest 2023, and clarify a few topics:
– In order to be a juror, you have to go beyond your taste. It's not about what I think or what I like. It's about what I believe will be the best possible choice for Spain in Eurovision. It'd be ridiculous to go by my own taste. I have to look at the full package: the quality of the song, the hit potential of it, the artistic side of the performance, the professionalism, the voice, and so on.
– I would say that you don't have to rely a lot on the presentation but instead think about what they can grow into...like Chanel last year. Her development from the selection show to what she did in Eurovision was...
I suggest: She became an artist!

– She did become an artist. You have to have that feeling: "that one is a jam" or "that could develop into something." That is to say that, at this point, you don't have to be totally ready.
The resurrection of the Eurovision spirit
Ready or not, no one could've anticipated what the Benidorm Fest 2022 would become. So, at the end of the day, Leire is positive about something:
– It is within the Benidorm Fest DNA to innovate and do things differently. If you don't take risks, you don't know what you can achieve.
Spain didn't win Eurovision 2022, but it still felt like a victory. During our conversation, Maria recalls last year's emotions:
– I believe that Eurovision is something appealing to everyone, and obviously, when you achieve good results, it motivates everyone to want to do better and feeds that thought of "we can win," she explains.
– Last year, whenever Chanel would get 12 points, people would scream just like they would when watching a football game. I guess that's a good resurrection.
If you don't take risks, you don't know what you can achieve.Leire Bilbao, Head of Visit Benidorm
Leire is on the same page:
– Last year's success did motivate us a lot. At the end of the day, Spain also won, and all the artists that participated in the national selection as well. All of them went on to tour the country and had a huge surge after their participation.
– There were a few participants that were only known by a very specific public. Tanxugueiras, for example, present a type of Celtic music, very specific to Galicia, and after their participation they were known all over Spain, and this year the same will happen. Take a look at Sharonne, she was very focused on the LGBT+ audience and on the drag queen scene... Now, everyone knows her. The same for Rakky! I am certain that this year's songs will become history.
Besides the motivation given, the first edition of the Benidorm Fest and what it could do or translate into was also (and will continue to be) a learning experience:
– Going back to last year's results again, and even before the festival took place, people thought there were two main contenders for the victory. Besides the Tanxugueiras, Rigoberta Bandini's "Ay Mamá" was also looked at as a possible winner, and no one would've thought things would drastically change but then you notice that it's also a show, recalls Leire.
– You should and will have to have a good song, but you'll need to know how to present it on stage, that's what we learned last year in Spain.

Benidorm Fest 2023: A smaller scale Eurovision
Indeed, lessons learned. The production level of Benidorm Fest 2023 was vivid proof of that. It was through the roof with every act bringing the most iconic elements onto the stage: Fusa Nocta brought a car and Alfred García replicated the Festival De La Canción set. Agoney set the whole thing on fire whereas Megara brought two walking "TVs" to life.
– I think they've done an amazing job in such a short amount of time, reflects Christer.
– It's only their second year, and I am very pleased with RTVE for making all of this effort in order to present a great selection show. All I can hope is that they'll continue to invest in the product and make it a larger and more relevant event.
It will. At least according to one of the many press conferences held during Benidorm Fest week:
– There was a press conference in Valencia where RTVE assured there would be a commitment to continuing with the format and making it better.
You can only wonder what is there to improve.
During Benidorm Fest week, the city of Benidorm invited both national and international media to come and visit the city, not only to explore its weather, beaches, landscape, gastronomy and nightlife but, of course, to experience first hand the ambitious festival and its spirit. The city dressed up for the occasion with posters all around the city, several activities related to the event, live screenings of the shows in the street, special concerts, and even special guests that surely ring a bell to Eurovision fandom such as Ronela Hajati (Albania 2022), WRS (Romania 2022), and Samanta Tīna (Latvia 2021).
As one could expect, many Spanish stars were also part of the celebrations such as Barei (Spain 2016), Edurne (Spain 2015), Marta Sango (Benidorm Fest 2021), Tanxugueiras, and so many others. It truly felt like Eurovision on a smaller scale and could easily become, in the near future, a destination for so many others who'd like to get a taste of what the Eurovision Song Contest is like.
But why is it so important to take such measures and initiatives?
– Mostly because we can communicate through all of this. Many may look at this as pure publicity for Benidorm, but what we really want is that you guys come, live it and tell it in the first person. We know that when people leave, they will only have good things to say about this city and the event because it truly has this special magic about it, elaborates Leire.
But what if Spain's Eurovision 2023 entrant, Blanca Paloma, is unable to follow in Chanel's footsteps and deliver a strong result?
– There is absolutely nothing wrong with it. The most important thing is that we feel proud of our song and representative, clarifies Maria.
Will your willingness to host such a massive event go on?
– We won't back down. Doesn't matter what happens, we'll continue to do it, she concludes.
The head of Visit Benidorm is also confident:
– We seriously hope that Benidorm Fest will become a platform for Spanish artists who want to come and make their statements, and will see it as a huge career opportunity just like it was before with Festival de la Canción. With Chanel, the dream came true and we can only hope it'll be the same for the upcoming acts.
Blanca Paloma was the winner of Benidorm Fest 2023 with her song "Eaea" and will therefore represent Spain at Eurovision 2023 in Liverpool during the Grand Final scheduled for 13 May.
Spain in the Eurovision Song Contest
Spain has participated in the Eurovision Song Contest 61 times since their debut in 1961. They have won twice: in 1968 (La, La, La...) and the folowing year, 1969 (Vivo Cantando).
Spain is a member of the "Big-5," which means they don't have to go through the Semi-final round and are automatically qualified for the Grand Final. Spain is also a member of "club zero" because they have managed to get zero points 3 times. They have finished in last place 5 times in Eurovision history, the latest coming in 2017.
Spain's best-known song is probably "Eres Tú" from Eurovision 1973 (2nd place, only four points away from victory).