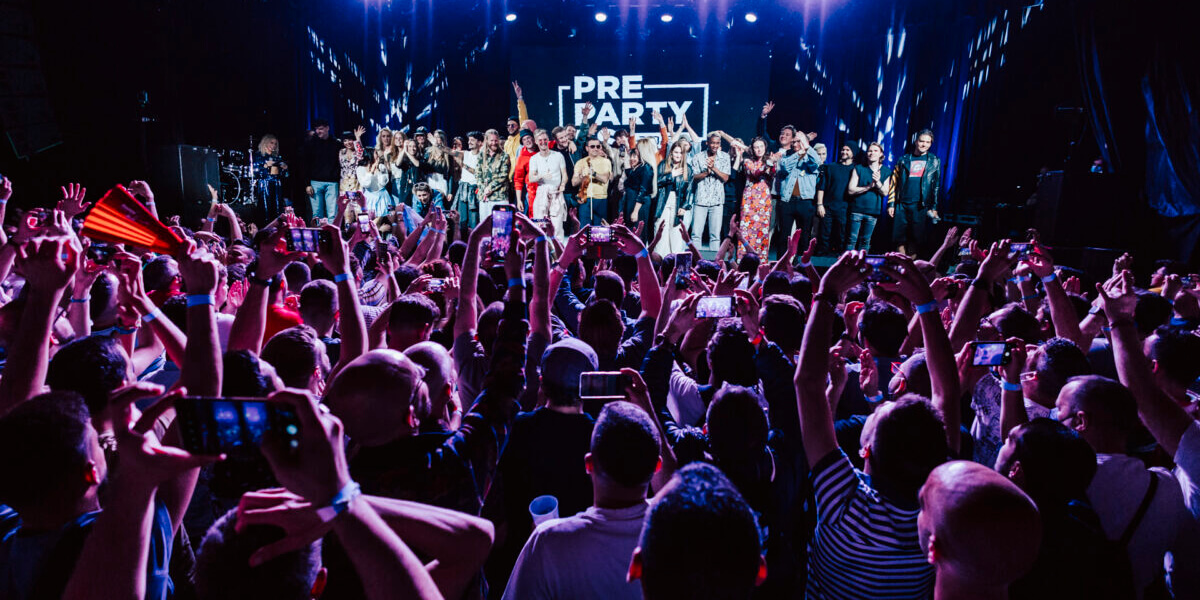 PRE-PARTY
Why should you attend a Eurovision pre-party?
Barcelona, Warsaw, Madrid, Amsterdam and London will all host their own Eurovision pre-parties, and this can be your chance to celebrate Eurovision 2023 even if you're not planning to go to Liverpool
The 37 songs that will be competing at this year's Eurovision Song Contest in Liverpool have all been released, and if you're a fan you probably have all of them on a loop by now and you're changing your ranking every two hours.
Moreover, if you tried to get tickets for the shows and couldn't, you're probably not too happy... But even if you did, you're most likely going crazy over the high prices for the tickets and accommodation in Liverpool.
Well, if you were indeed one of the lucky (and fast) ones to get tickets, then enjoy the show. If you're one of those who didn't, we may have an alternative for you: the Eurovision pre-parties.
The Parties
On 23 March, Barcelona will kick things off with the second edition of the Barcelona Eurovision Party. The event will last for three days, and besides the many Eurovision 2023 artists already confirmed such as Blanca Paloma (Spain 2023), Gustaph (Belgium 2023), Teya & Salena (Austria 2023) amongst others, many former Eurovision artists such as Efendi (Azerbaijan 2021), Ronela Hajati (Albania 2022), and Barei (Spain 2016) will also be part of the lineup.
The three-day event will be held in Barcelona's Sant Jordi Club and there are still tickets available. But not a lot, so if you're considering this one...think fast, the last 100 tickets for the main event are now on sale.
On 1 April, Warsaw will host its very first Eurovision pre-party. Poli Genova (Bulgaria 2016) will serve as the host of the show and artists such as Jamala (Ukraine 2016), Ochman (Poland 2022), Senhit (San Marino 2021), and Alika (Estonia 2023) are already confirmed.
One week later, and back to Spanish territory, Madrid will host the PrePartyES 2023. The event will occur on 7 and 8 April and will also feature an exciting lineup: Alessandra (Norway 2023), La Zarra (France 2023), and Sudden Lights (Latvia 2023) amongst others are confirmed, and other iconic Eurovision names such as Kaliopi (North Macedonia 2012, 2016) and Diodato (Italy 2020) will also be performing.
Just like the Barcelona party, the tickets for the Madrid party are flying. Secure yours.
Then, on 15 April, the iconic Eurovision in Concert held in Amsterdam will take place. Monika Linkytė (Lithuania 2023), Piqued Jacks (San Marino 2023), and Voyager (Australia 2023) are some of the confirmed acts so far. Tickets are still on sale, and while the lineup is already pretty packed expect more names to be confirmed in the next days!
On the day after (16), it will be the United Kingdom having its party in London. The London Eurovision Party will occur on HERE at Outernet. And just like the Eurovision 2023 tickets, those are sold out. Regardless, if the ticket sale is similar to previous years, more should be put on sale ahead of the show.
Several acts are already confirmed such as Joker Out (Slovenia 2023), Tamara (North Macedonia 2019), and Wild Youth (Ireland 2023).
The artists mentioned above for each party are only some of the confirmed acts, and more are expected to be confirmed. For the full list, refer to the official parties' websites.
Why should you go?
Get to experience a bit of the EuroClub
Even though the Eurovision parties are generally a concert, you should expect an afterparty with 100% Eurovision music. Needless to say that Eurovision parties are always the best and the fans easily let go of the competition spirit of the event and truly enjoy themselves.
When partying to Eurovision music, there are no favorites or least favorites, every song makes you want to dance or maybe even recreate that performance with your friends on the dancefloor: it's like the EuroClub just outside of the host city.
See your favorite artists live
As mentioned above, you're going to a live concert where many of this year's Eurovision artists will perform their entries live. So if you're not going to Liverpool, here's your chance to hear your favorite songs live.
Don't expect props or teasers of the actual Eurovision performance. Instead, expect more interaction with your favorite acts since they're free on stage without cameras to look at: you'll be the reason why they're there.
Get to speak with your favorite artist
The agenda is more relaxed than in Eurovision. Even if the artists generally have places to be, they generally take some time off to explore the city so who knows? Maybe you'll just bump into one of them and let them know of how great they song is!
Meet the fans
These Eurovision parties are a great way to connect. In fact, many fans see each other yearly thanks to these.
Take this opportunity to meet people who love the same thing as you do or to see people you haven't seen in a while. The Eurovision community is welcoming.
It happens once a year

This is self-explanatory, but always remember that after Eurovision comes the PED, Post-Eurovision Depression. Won't it be better to have that with great live memories? Let's go!