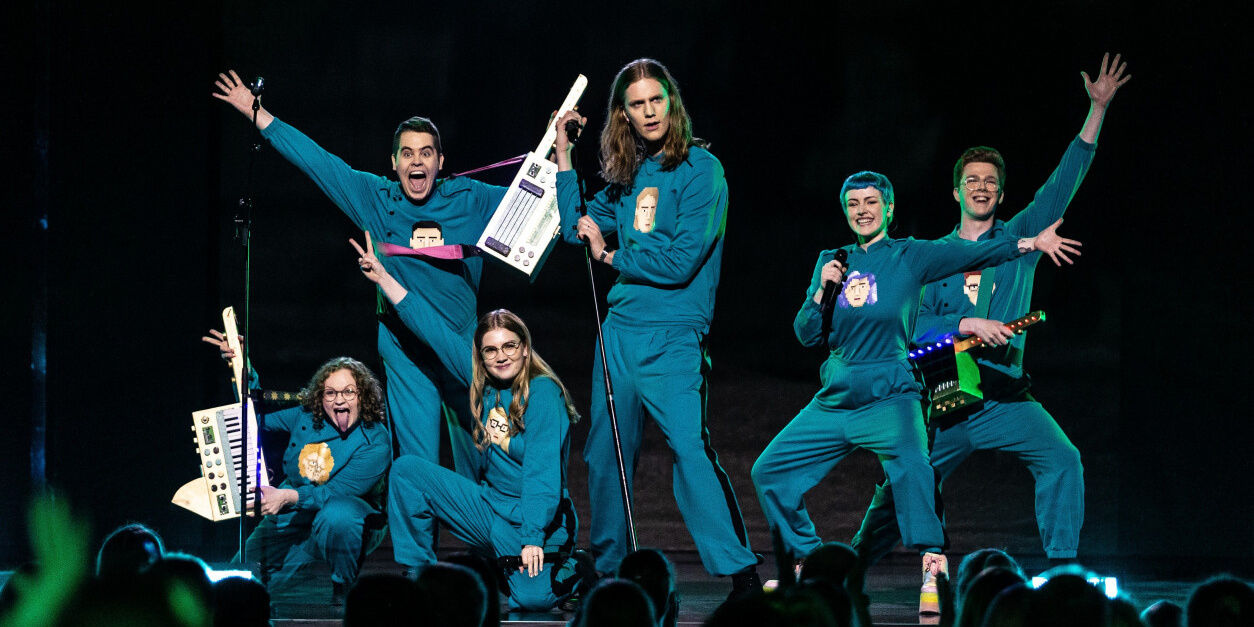 EUROVISION 2020 CANCELLED
Daði & Gagnamagnið from Iceland win Finland's De Eurovisa
The jury panel of Finland's "De Eurovisa" has chosen its Eurovision 2020 winner! It is "Think About Things" by Daði & Gagnamagnið from Iceland
Finland is one of the many countries that is celebrating Eurovision in its own alternative way.
YLE's "De Eurovisa" is held every year and previews what's to come in the contest. This year, nonetheless, it will also serve as the way of introducing the songs to the Finnish public as the original show was cancelled.
Aired every Friday, since 3 April, and hosted by TV hosts Eva Frantz and Johan Lindroos, the show reviewed a group of entries at a time. In charge of the ranks were the hosts themselves along with a guest judges
After all was said and done, Iceland's song "Think About Things", performed by Daði & Gagnamagnið won the show.
De Eurovisa – Results
Iceland: Daði & Gagnamagnið – Think About Things (30 points)
Bulgaria: Victoria – Tears Getting Sober (28 points)
Netherlands: Jeangu Macrooy – Grow (28 points)
Finland: Aksel Kankaanranta – Looking Back (27 points)
Denmark: Ben & Tan – Say Yes (26 points)
Lithuania: The Roop – On Fire (26 points)
Ukraine: Go_A – Solovey (26 points)
Russia: Little Big – Uno (25 points)
Ireland: Lesley Roy – Story Of My Life (24 points)
Australia: Montaigne – Don't Break Me (23 points)
Germany: Ben Dolic – Violent Thing (23 points)
Romania: Roxen – Alcohol You (23 points)
United Kingdom: James Newman – My Last Breath (23 points)
Albania: Arilena Ara – Fall From The Sky (22 points)
Belgium: Hooverphonic – Release Me (22 points)
Italy: Diodato – Fai Rumore (22 points)
Poland: Alicja – Empires (22 points)
Austria: Vincent Bueno – Alive (21 points)
North Macedonia: Vasil – You (21 points)
Switzerland: Gjon's Tears – Répondez-moi (21 points)
San Marino: Senhit – Freaky! (20 points)
Armenia: Athena Manoukian – Chains On You (19 points)
Sweden: The Mamas – Move (19 points)
Moldova: Natalia Gordienko – Prison (17 points)
Estonia: Uku Suviste – What Love Is (16 points)
Malta: Destiny – All Of My Love (16 points)
Norway: Ulrikke – Attention (16 points)
Spain: Blas Cantó – Universo (15 points)
Croatia: Damir Kedžo – Divlji vjetre (14 points)
Greece: Stefania – Supergirl (12 points)
Azerbaijan: Efendi – Cleopatra (11 points)
Belarus: VAL – Da Vidna (11 points)
Georgia: Tornike Kipiani – Take Me As I Am (11 points)
Latvia: Samanta Tina – Still Breathing (11 points)
Serbia: Hurricane – Hasta La Vista (11 points)
Slovenia: Ana Soklič – Voda (11 points)
Cyprus: Sandro Nicolas – Running (9 points)
Czech Republic: Benny Cristo – Kemama (9 points)
Israel: Eden Alene – Feker Libi (8 points)
France: Tom Leeb – Mon Alliée (6 points)
Portugal: Elisa – Medo de Sentir (4 points)
Finland debuted in the Eurovision Song Contest in 1961 and has participated ever since, except for six years, mostly because of previous years' bad position.
The country has won the competition once, in 2006 with the song "Hard Rock Hallelujah", performed by Lordi.
Since then Finland's best result is 11th place in 2014.
Since the introductions of semi-finals in 2004, Finland has qualified for the Grand Final half of the 16 times.