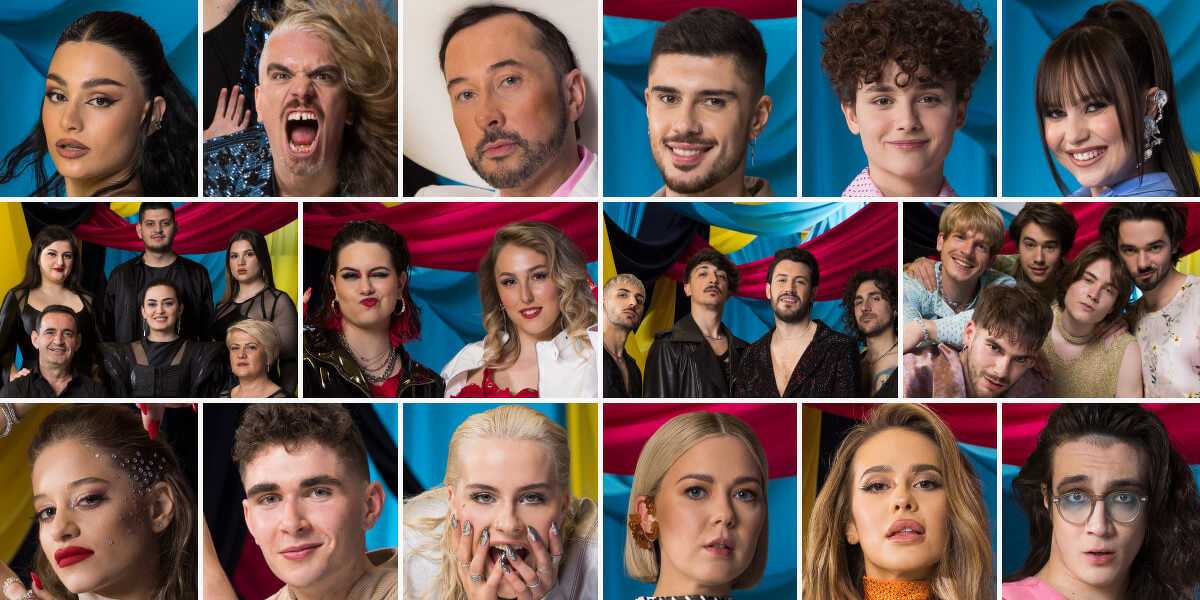 LIVERPOOL 2023
Tonight: Semi-final 2 of the Eurovision Song Contest 2023
Tonight, the second Semi-final will find the last 10 qualifiers for Saturday's Grand Final. 16 songs will compete in tonight's show broadcast live from Liverpool Arena in the United Kingdom. Have a look at all the details, songs, and what to expect from tonight's Semi-final 2
We already know the first 16 songs qualified for the Grand Final on Saturday. Tonight, the second Semi-final will decide the last 10 qualifiers.
16 participants will compete, but only 10 of them will qualify for Saturday's Grand Final. The show starts at 21:00 CEST, broadcast live from Liverpool Arena in the United Kingdom, and can be streamed on YouTube. The hosts are Julia Sanina, Hannah Waddingham and Alesha Dixon.

The running order has been decided by British broadcaster and producer BBC based on an allocation draw.

Lineup Semi-final 2
1
Denmark
Breaking My Heart Reiley
Reiley
2
Armenia
Future Lover Brunette
Brunette
3
Romania
D.G.T. (Off and On) Theodor Andrei
Theodor Andrei
4
Estonia
Bridges Alika
Alika
5
Belgium
Because of You Gustaph
Gustaph
commercial break
6
Cyprus
Break a Broken Heart Andrew Lambrou
Andrew Lambrou
7
Iceland
Power Diljá
Diljá
8
Greece
What They Say Victor Vernicos
Victor Vernicos
9
Poland
Solo Blanka
Blanka
10
Slovenia
Carpe Diem Joker Out
Joker Out
11
Georgia
Echo Iru
Iru
commercial break
12
San Marino
Like An Animal Piqued Jacks
Piqued Jacks
13
Austria
Who The Hell Is Edgar? Teya & Salena
Teya & Salena
14
Albania
Duje Albina & Familja Kelmendi
Albina & Familja Kelmendi
15
Lithuania
Stay Monika Linkytė
Monika Linkytė
16
Australia
Promise Voyager
Voyager
After the 16 songs from the second Semi-final, a 1-minute preview of three of the six pre-qualified countries will be shown: Spain, the United Kingdom, and Ukraine. These previews were recorded yesterday at the rehearsals.
Opening: A recap of Semi-final 1
The viewers are welcomed with a recap of Tuesday's semi-final, mainly guided by Ukraine's Timur Miroshnychenko.

Once that wraps up, the voice of the former Spice Girl, Melanie C, is once again responsible for introducing tonight's hostesses: Julia Sanina, Hannah Waddingham and Alesha Dixon. The three beauties are already on the main stage and make their way to the catwalk where they are greeted with applause.
While Alesha Dixon welcomes Europe, Hannah welcomes Australia, and in Ukrainian, Julia welcomes her own country, Ukraine. Still on stage, the hostesses introduce the competition and reinforce a few notes that the public should know.
In unison, they shout:
Let the Eurovision second semi-final begin!
Postcards
Before each of the 16 songs we'll see a small "postcard" while the stage is being prepared for the next song. Each of the 16 postcards feature the same idea:
Being loyal to this year's slogan – United by Music – the postcards are meant to represent that unity. And for that they use a trail-blazing 360-degree drone technology that goes from Ukraine to the United Kingdom, and finally to the country being presented. The locations chosen reflect a connecting theme.
Each postcard ends with a "small word" technique that transforms a super-wide panoramic view into a tiny planet which the camera can fly in and out of.
Unlike recent years, those mostly show images of the artists' countries.
Commercial Breaks
After song number 5 (Belgium), the evening's first commercial break takes place:
For the viewers without commercials, we have a short segment where Hannah Waddingham is once again near the commentators' boxes.
In it, she's joined by Timur Miroshnychenko, the Ukrainian commentator, and by Graham Norton, the British commentator and part of the hosting team for this year's Grand Final.
After song number 11 (Georgia), the second commercial break takes place:
Hannah and Julia introduce actor Luke Evans who performs an uplifting Spoken Word piece that will take us through nearly 70 years of Eurovision history. This is meant to symbolize the unity of Eurovision which keeps Europe coming together despite differences and division.

Interval Act: Mariya Yaremchuk, Zlata Dziunka, OTOY, and more
After all 16 songs have been performed, it's time to start the voting. All countries in Semi-final 2, along with the three pre-qualified countries, Spain, Ukraine and the United Kingdom, can vote in this Semi-final.
The three presenters explain the rules and are quick to open the voting:
Europe! Start voting now!
A recap follows, and after that Julia and Hannah prove how the Brits and the Ukrainians in the building work perfectly together as both nationalities share backstage functions.

Mariya Yaremchuk, Zlata Dziunka and OTOY

It's time for the first interval act, which brings together different generations of Ukrainian music. Mariya Yaremchuk (Ukraine 2014) is on stage to perform well-known and beloved pieces of music from Ukraine. She's later joined by rapper OTOY and Zlata Dziunka (Ukraine JESC 2022), who perform together showing the connection between these different generations.
One final recap follows and...
Europe! Stop voting now!
The voting is now closed, but it's not yet time to hear the qualifiers. There are quite a few segments yet to come.
Queen Machine: Drag show
Once the voting is closed, Hannah is at the center of the stage looking for her two co-hostesses and can't find them. Instead, there are two drag queens on the superior level of the stage impersonating both Alesha and Julia. Hannah believes they went through a makeover and joins them, being "replaced" by another drag queen.
This is the motto for the second interval act, which reinforces the idea of Eurovision being a place for everyone, a safe place where you can be who you are. The three drag queens are joined by a cast of eclectic dancers who represent different types of people and perform a medley of pop songs featuring Jessie Ware's "Free Yourself" and En Vogue's "Free Your Mind."
Q or NQ?
This is followed by the second (and final) part of previous Eurovision hosts' face-off. Filomena Cautela and Måns Zelmerlöw will guess if these songs qualified: Lithuania 2010, Malta 2018 and Moldova 2010.

We are then taken behind the scenes with four kids who explore the backstage of the world's biggest musical event.
Pre-qualified countries
There are six countries that are automatically pre-qualified for the Grand Final, which are made up of the last year's winner, Ukraine, and the "Big-5" countries: France, Germany, Italy, Spain and the United Kingdom.
Before the announcement of the results, we're presented with three of the six pre-qualified countries for the Grand Final. These three countries will also broadcast and vote in Semi-final 2.
In this Semi-final, it's Spain, Ukraine and the United Kingdom.
A special video with curiosities on those three is played, and a live short interview is followed by a preview of their songs, recorded yesterday evening.
We're ready to know the 10 qualifiers, and Martin Österdahl, the boss who oversees everything related to Eurovision, announces that all is set for the qualifiers announcement.
THE 10 SONGS QUALIFIED FOR THE GRAND FINAL ARE...
🏳️🏳️🏳️🏳️🏳️🏳️🏳️🏳️🏳️🏳️
GOOD NIGHT EUROPE!
Voting
The voting procedure has changed from previous years. In the semi-finals, there will be no juries. Viewers in some of the non-participating countries ("rest of the world") will now be able to vote online. These online votes will have the same weight as one participating country in both of the Semi-Finals, as well as the Grand Final. Each country and "rest of the world" will have one set of 1, 2, 3, 4, 5, 6, 7, 8, 10 and 12 points to give.
The 10 songs with most points will qualify for the Grand Final.
Each of the 16 countries participating in Semi-final 2 will vote.
The pre-qualified countries Spain, the United Kingdom and Ukraine will broadcast and vote in Semi-final 2.
Each country will have televoting, which results in a set of 1 ,2, 3, 4, 5, 6, 7, 8, 10 and 12 points.
"Rest of the world" can vote online, which results in a set of 1 ,2, 3, 4, 5, 6, 7, 8, 10 and 12 points.
The voting results will not be revealed before the Grand Final has finished on Saturday.
Only the 10 qualified songs will be revealed, and in random order.