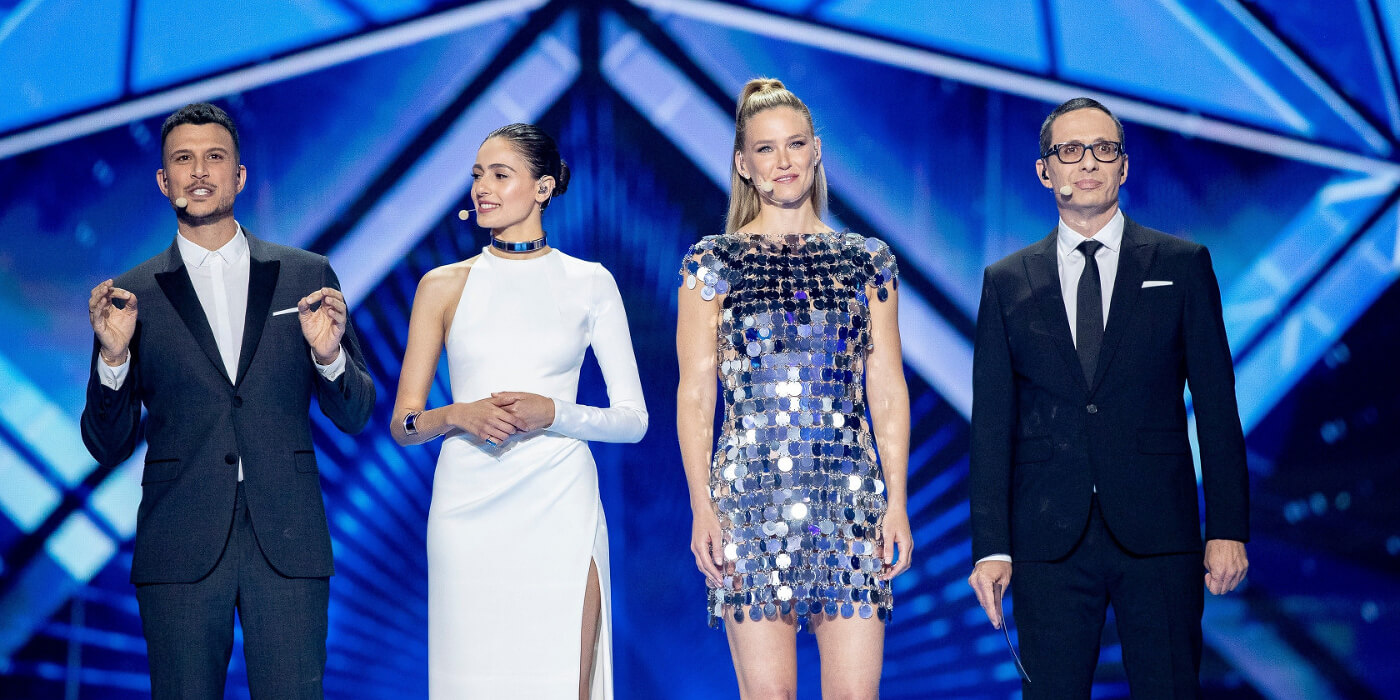 TEL AVIV 2019
All about Eurovision 2019 Grand Final
Tonight we know the winner of Eurovision Song Contest 2019! 26 countries will compete for the trophy, and the honor of hosting Eurovision Song Contest 2020. See all the details, songs and what to expect from tonight's Grand Final
The 64th edition of Eurovision Song Contest ends tonight! 26 songs will compete, and after 3,5 hours of music, performances, entertainment and excitement, we know the winner of Eurovision Song Contest 2019.
The show starts at 21:00 CEST, live from Expo Tel Aviv in Israel. Hosts are Bar Refaeli, Erez Tal, Assi Azar and Lucy Ayoub. The running order has been decided by the producer (Israeli broadcaster KAN) based on a draw.
The qualified countries are:


Lineup Eurovision 2019 Grand Final
Opening
Welcome to Tel Aviv. The opening of the Grand Final of Eurovision Song Contest 2019 is a video of a Tel Aviv-bound airplane. On command of the flight is Netta, air traffic controller is Jon Ola Sand and passengers are tonight's 26 participants. People in Tel Aviv are looking forward to this arrival. Jeeps are crossing the desert, ships and boats are lighting up Tel Aviv coast, children, cyclists and drones light up the city. Countdown, touchdown and the image of the plane is seen on Expo Tel Aviv stage. Netta is already on stage and dancers are getting off the plane to accompany her on a new version of "Toy".
The participants start appearing on stage one by one. Instead of flags, one dancer spins a special torch showing each country's flag and "Good evening" is heard in the respective language. After Sweden crosses the stage, Dana International appears on stage singing "Yahabibi Tel Aviv" and "Diva" and afterwards the parade continues till Estonia crosses the stage and then we see Israel's very first participant Ilanit singing "Ey Sham" and when the parade comes to its end, Navad Guedj appears on stage to sing his "Golden Boy". Netta and Dana call the presenters on stage.
Ladies & Gentlemen. Live from Tel Aviv. Welcome to the Grand Final of the Eurovision Song Contest 2019!
Madonna's appearance in tonight's Grand Final was formally announced on Thursday's semifinal and Bar Rafaeli doesn't forget to point it out once more. The voting guidelines are given through a video mixing past presenters talking in English while the French version of the guidelines is given by Erez.
Let the Eurovision Song Contest 2019 begin!
Right after Russia, Bar and Lucy brag about women having the lion's share in Eurovision victories.
The first commercial break comes after North Macedonia when Lucy and Assi talk Michaela from Malta and Miki from Spain in the Green Room and then Assi presents Sweden that is next.
Right in the middle (after Greece's performance) we see Lucy who informs us that we are half way through and presents us the Israeli representative who "tangoes himself through Jerusalem" in his clip right before appearing on stage to receive the warmest round of applause in his homeland right in the center of the stage.
The second commercial break occurs right after the United Kingdom when we see Lucy and Assi talking to the four participants for whom this is not their first appearance on the Eurovision stage: Sergey Lazarev from Russia, Tamara Todevska from North Macedonia, Serhat from San Marino and Nevena Božović from Serbia.
Interval Acts
After the last performance the voting lines are open, and the first recap is shown.
Palagan

Assi appears on stage to present the first part of the interval. He says that we are about to see five connections between contestants to show we're a big Eurovision family. He names this all "palagan" which in Hebrew means "a mess", "mix and switch" as he says. He first calls Conchita Wurst on stage who sings Måns Zelmerlow's winning song "Heroes" while Måns is watching. Assi then calls Måns Zelmerlöw on stage to sing Eleni Foureira's "Fuego" while Eleni is watching. Then Eleni Foureira takes the stage to sing Verka Serduchka's "Singing Lasha Tumbai" while Verka is watching. And Verka Serduchka takes the stage along with her mother (of course) and the rest of her group to perform "Toy". Last but not least, Gali Atali appears on stage to sing "Hallelujah" at first on her own and then with Måns, Eleni, Conchita and Verka.
Gal Gadot / Idan Raykhel

The second part of the interval consists of a 3-minute video about Tel Aviv featuring world-famous Isreali actress Gal Gadot who played the role of Wonderwoman. Rumor has it that we are also going to see her talking live from Hollywood. After this video we watch a second recap of the songs and then we will all see the well-celebrated Israeli singer on stage Idan Raykhel and his group Idan Raykhel Project performing his new song "Boee".
Leo Suchard (mentalist)

Leo Suchard, the famous mentalist who we saw on Thursday's semi-final, finds himself in the Green Room again to perform one more magic trick with the collaboration of some of the contestants.
Netta: Nana Banana
And then, it's "Netta time" as Bar and Erez say; a huge dining table on the stage, Netta and her dancers all dressed in yellow to perform Netta's brand new song "Nana Banana".
Madonna: Future & Like a Prayer
And the long-awaited moment has arrived: Madonna is going to appear on the Eurovision stage to perform two songs, her brand-new single "Future" which was released yesterday in collaboration with the American rapper Quavo and her immense 1989 hit "Like a Prayer".
The evening's last recap, before the countdown: Stop voting now!
Right after the voting has stopped it's time for the jury results.
Jury results – Televoting results – And the winner is...
Voting
The voting procedure will be the same as previous three years. Each country will have two sets of 1,2,3,4,5,6,7,8,10 and 12 points to give. One set for each country's jury, and one set for each country's televoting.
Each of the 41 countries participating in this years Eurovision will vote
Each country has a national jury who gave one set of 1,2,3,4,5,6,7,8,10 and 12 points
Each country will have televoting which also results in a set of 1,2,3,4,5,6,7,8,10 and 12 points
First the the juries points will be presented individually by a spokesperson from each country
Secondly the points from televoting will be bundled and given combined
Televoters and national juries have equal weight in the voting
The national juries voted yesterday evening (Friday, 17 May) during the second dress-rehearsal
If two countries have the same points, the best of the two is the song which has obtained points from the highest number of countries. If the tying songs have received points from the same number of countries, the highest number of 12-point scores shall be decisive. If the winner still cannot be determined by this procedure, the number of times ten points have been awarded shall be the deciding factor. If necessary, this method shall continue until account has been taken of the number of times one point has been awarded
Shortly after the Grand Final, the detailed results, voting and points will be revealed.