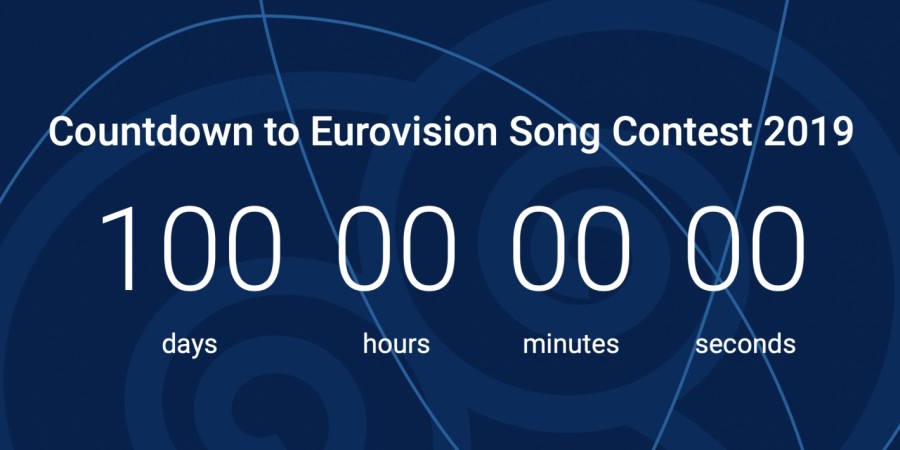 TEL AVIV 2019
Eurovision 2019 countdown: 100 days! What do we know so far?
In just 100 days Eurovision Song Contest 2019 begins with the first semi-final. Lets take a recap: What do we know so far?
It is not the Final Countdown. But it's the Semi-final Countdown! This is where Eurovision begins.
With 100 days left before the first show of Eurovision Song Contest 2019 in Tel Aviv is aired, it's time for a round up of some of the facts we know so far about the biggest music competion in the world. The 2019-edition will feature 42 songs from 42 countries.
Eurovision Song Contest 2019 takes place in Tel Aviv, Israel:
Songs & Artists
4 countries are ready with songs and artists selected for Tel Aviv:
Click on a song title to see video, lyrics and details about each song
Artists
9 countries have chosen their artists to send to Tel Aviv:
National selections
Preparations are at full speed in the 42 countries participating in Tel Aviv. The national selections peak in a few weeks, and so far 8 countries have started their selections, shows and competitions:
... and many countries have revealed the contestants for their national selection.
So far we know that...
The big Eurovision selection days will be the Saturdays 16 February and 23 February, each with four countries selecting. Still there are some countries who haven't announced the dates for their national selection, and still a few countries where it is unsure if they are organizing a national selection process, or just pick an act internally.
Semi-final allocation draw & Host Insignia Ceremony
The Semi-final allocation draw took place on Monday, where it was determined who's in which Semi-final. Also the "Big 5" (UK, Germany, France, Italy and Spain) + Israel were distributed to the two semi-finals for voting.
The Host Insignia Exchange took place in Tel Aviv just before the allocation draw. Here the "Eurovision Keys" were handed over from Lisbon city to Tel Aviv city. The Eurovision Keys exist of extreme weird key-hangers from each host the last many years.
Tickets
The ticket sale will begin this month, where the first tickets for the Eurovision will go on sale. The tickets will be released in batches, depending on the allocation of seats in the arena.
The ticket sale has been delayed several times. It was first announced for December 2018, later it was changed to January 2019, and the latest announcement is now for mid-February 2019.
Event
The host city is selected (Tel Aviv, in case you have been sleeping the last half year), and the dates are also set: 14, 16 & 18 May 2019.
The Arena is selected: Expo Tel Aviv, and the stage design has been revealed: Another master piece by Florian Wieder.
Dare to Dream! Logo & Slogan for Eurovision 2019 have been revealed. The theme is: Triangles and stars.
The location of Eurovision Village (Charles Clore Park) has been decided.