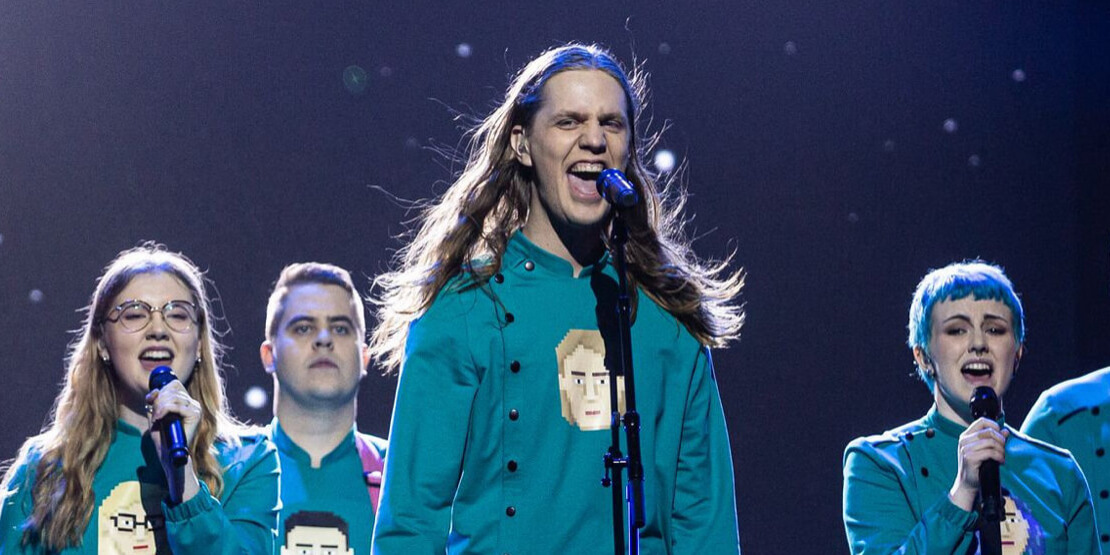 EUROVISION 2020 CANCELLED
Daði & Gagnamagnið wins third show of Alla leið in Iceland
The third round of Iceland's alternative Eurovision 2020 show has been won by the country's very own "Think About Things" performed by Daði & Gagnamagnið
Iceland is still on the search of its Eurovision 2020 winner after the cancellation of the original contest in Rotterdam.
Shortly after the sad news, Iceland's broadcaster RÙV announced their alternative show, Alla leið.
In the first two weeks, a jury panel went through the 20 first entries of the first Semi-final. Diodato from Italy and Ukraine's Go_A were the rounds' winners.
Tonight, the juries reviewed ten new songs from the second Semi-final. In the end, the country's representatives, Daði & Gagnamagnið won the round.
Alla leið – Show 3 results
Alla leið – Current Standing
Italy: Diodato – Fai Rumore (48 points)
Iceland: Daði & Gagnamagnið – Think About Things (48 points)
Germany: Ben Dolic – Violent Thing (40 points)
Ukraine: Go_A – Solovey (40 points)
Azerbaijan: Samira Efendi – Cleopatra (37 points)
Russia: Little Big – Uno (34 points)
Lithuania: The Roop – On Fire (32 points)
Malta: Destiny – All Of My Love (32 points)
Austria: Vincent Bueno – Alive (32 points)
United Kingdom: James Newman – My Last Breath (32 points)
Greece: Stefania – Supergirl (32 points)
Serbia: Hurricane – Hasta La Vista (27 points)
San Marino: Senhit – Freaky! (27 points)
Norway: Ulrikke – Attention (26 points)
Poland: Alicja – Empires (25 points)
Israel: Eden Alene – Feker Libi (24 points)
North Macedonia: Vasil – You (22 points)
Ireland: Lesley Roy – Story Of My Life (22 points)
Romania: Roxen – Alcohol You (22 points)
Moldova: Natalia Gordienko – Prison (22 points)
Estonia: Uku Suviste – What Love Is (21 points)
Belgium: Hooverphonic – Release Me (19 points)
Czech Republic: Benny Cristo – Kemama (18 points)
Netherlands: Jeangu Macrooy – Grow (18 points)
Australia: Montaigne – Don't Break Me (16 points)
Slovenia: Ana Soklič – Voda (16 points)
Croatia: Damir Kedžo – Divlji vjetre (15 points)
Belarus: VAL – Da Vidna (14 points)
Cyprus: Sandro Nicolas – Running (13 points)
Sweden: The Mamas – Move (11 points)
Alla leið is hosted by Felix Bergsson and Bjorg Magnus. Tonight's jury panel was composed by:
Karitas Harpa
Jóhannes Þór Skúlason
Guðrún Gunnarsdóttir
Einar Bardarson
Bjorg Magnus was in charge of the interviews. This time, she was joined by Hera Björk (Iceland 2010), Eyjólfur Kristjánsson (Iceland 1991), Jón Gnarr (Icelandic actor) and Ingibjörg Sólrún Gísladóttir (Icelandic politician).
Alla leið and Okkar 12 stig
Every Saturday, starting on 18 April, RÚV will broadcast a few shows that will be looking at songs from the Eurovision Song Contest 2020 edition with a panel giving votes which will serve as an alternative jury vote:
The public will also get the chance to vote for their favourite songs which will serve as an alternative televote.
On 12 May, RÚV will broadcast an Eurovision pre-party where the top 15 songs will be revealed whilst on 14 May, a final show - Okkar 12 stig - will air and crown the winner of the Icelandic vote.
Saturday 18 April, 22:20: Alla leið – show 1
Saturday 25 April, 22:20: Alla leið – show 2
Saturday 2 May, 22:20: Alla leið – show 3
Saturday 9 May, 22:45: Alla leið – show 4
Tuesday 12 May, 21:40: Alla leið – Top 15
Thursday 14 May, 21:40: Okkar 12 stig (Our 12 Points)
Iceland's debut in Eurovision Song Contest was back in 1986, and has been participating 32 times since.
Best result are two second-places with Yohanna in 2009 and Selma in 1999.
Since the introduction of Semi-finals in 2004 Iceland qualified to the Grand Final 9 out of 16 times.
Iceland is the only Northern European country that has yet to win the Eurovision Song Contest.