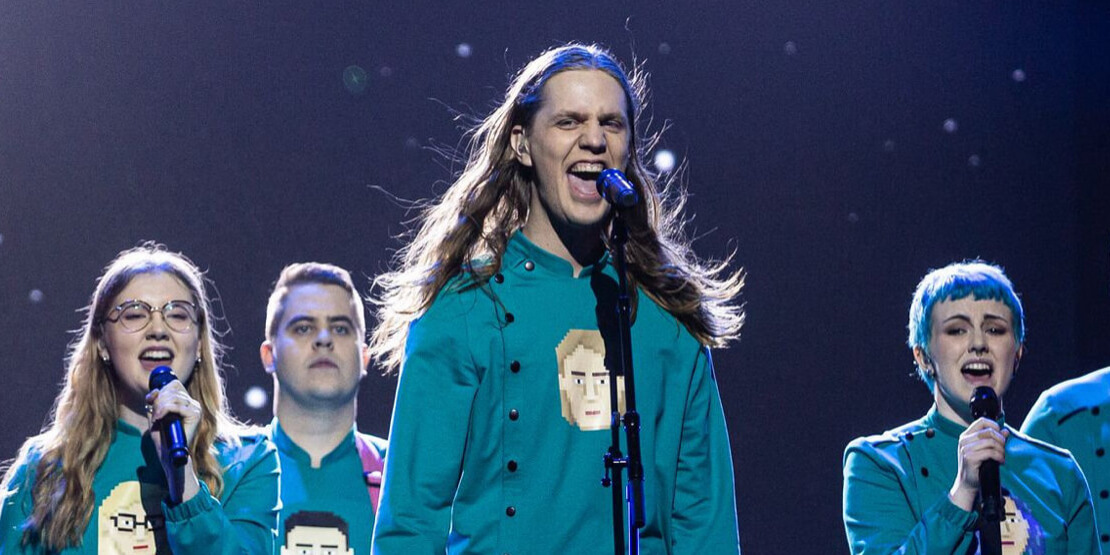 EUROVISION 2020 CANCELLED
Sweden has decided: Iceland wins Sveriges 12:a
Sverige, vi har ett resultat! Swedish public and jury has crowned their own winner of Eurovision Song Contest 2020 in tonight's "Sweden's 12 points"
Sweden continue their Eurovision celebration after airing Eurovision: Inför ESC last Saturday 9 May. During this alternative Eurovision Song Contest 2020, all 41 songs were presented to the public and the top 25 were chosen.
Tonight the show "Sveriges 12:a" (Sweden's 12 points) was held in Sweden. Hosts Sarah Dawn Finer and Christer Björkman gave the chance for the viewers to vote for their 2020 winner via the Mello app. A jury panel joined the hosts and also had the chance to vote for their winner.
Daði og Gagnamagnið from Iceland with the song "Think About Things" was ultimately crowned Sweden's Eurovision Song Contest 2020 winner. The winner was decided by a combination of Jury votes and the public votes from the Mello app.
Sveriges 12:a – Results
Iceland: Daði og Gagnamagnið – Think About Things (24 points)
Malta: Destiny – All Of My Love (20 points)
Switzerland: Gjon's Tears – Répondez-moi (10 points)
Lithuania: The Roop – On Fire (9 points)
Russia: Little Big – Uno (9 points)
Bulgaria: Victoria – Tears Getting Sober (8 points)
United Kingdom: James Newman – My Last Breath (8 points)
Denmark: Ben & Tan – Yes (6 points)
France: Tom Leeb – Mon alliée (The Best in Me) (5 points)
Italy: Diodato – Fai Rumore (5 points)
Belgium: Hooverphonic – Release Me (4 points)
Germany: Ben Dolic – Violent Thing (4 points)
Australia: Montaigne – Don't Break Me (3 points)
Ireland: Lesley Roy – Story of My Life (1 point)
Austria: Vincent Bueno – Alive (0 points)
Azerbaijan: Efendi – Cleopatra (0 points)
Estonia: Uku Suviste – What Love Is (0 points)
Finland: Aksel Kankaanranta – Looking Back (0 points)
Georgia: Tornike Kipiani – Take Me As I Am (0 points)
Greece: Stefania – Supergirl (0 points)
Israel: Eden Alene – Feker Libi (0 points)
Netherlands: Jeangu Macrooy – Grow (0 points)
Norway: Ulrikke – Attention (0 points)
Poland: Alicja – Empires (0 points)
Spain: Blas Cantó – Universo (0 points)
The Swedish representatives The Mamas was due to present "Move" in Rotterdam this year, after winning Melodifestivalen 2020.

Sveriges 12:a – The Show
During the program, the 25 finalists that the viewers voted for in the Mello app during the week will be revealed and once again will invited the viewers to vote again but this time to choose and the Eurovision Song Contest 2020 winner, meaning we will have the winner from 2020 by the Swedish people. Not only that but during the program, viewers went down memory lane with Eurovision memories and clips from the two most recent editions in Sweden, 2013 and 2016. Recent Melodifestivalen winners The Mamas, performed "Move".
Sveriges 12:a was hosted by Sarah Dawn Finer and Christer Björkman and joined by a jury panel which included former Melodifestivalen representatives, two former Eurovision representatives and a songwriter.
The juries during the show were:
Dotter (Former Melodifestivalen participant)
Eric Saade (Sweden 2011)
Lina Hedlund (Former Melodifestivalen participant)
Since 1958 Sweden has participated 59 times in Eurovision Song Contest with great succes. They have won the contest 6 times:
They came last two times (1963 and 1977), and since the introduction of the Semi-finals in 2004 Sweden managed to qualify for the Grand Final 15 out of 16 times! (only skipped the qualification in 2010)